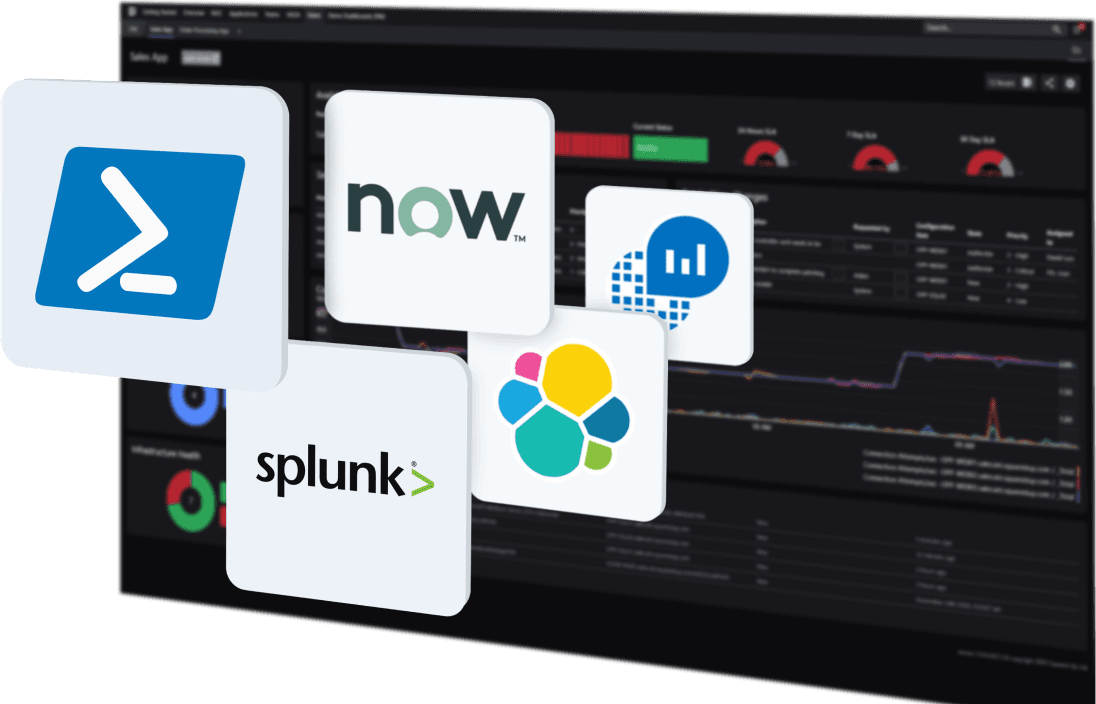 Bring any data together. Instantly.
Intuitive integrations in SquaredUp let you stream data from any source on demand.
Connect directly to the data source with an array of dedicated integrations
SCOM
Get quick access to every alert, object, and metric in SCOM, and visualize them with dashboards and drilldowns available right out of the box.
Web API
Integrate with REST APIs to visualize data from sources like Pingdom, New Relic, Octopus Deploy, and more.
PowerShell
The Swiss Army Knife of integrations lets you access any data with a little PowerShell scripting knowledge.
SQL / ODBC
Connect to any database via SQL Server or ODBC such as Oracle, PostGre, MySQL, etc.
ServiceNow
Visualize your ServiceNow workflow data for greater visibility into how to optimize.
Azure Cloud Platform
Track cloud performance and Identify which resources your application is using to relate every dollar of cloud spend to business value.
Connect your tools
Click a tool to see dashboard examples
"SquaredUp is so simple. You don't have to be a data scientist to use it."
Samuel, ATEA
Visualize data any way you want
Choose from a multitude of visualizations to display your data so it's instantly understood by everyone.
Status
Get alerted of the status of any object in real time with icons, blocks, and donut charts.
Image
Display the rolled-up health state of objects on an image background like a map.
Web Content
Display and embed web pages, text, and links, or show buttons with hyperlinks in your dashboards.
Matrix
See detailed health state and performance metrics and more for a list of monitored objects.
Alerts
Choose to see alerts in a list with alert icons or visualized in a donut chart.
Performance
See how your objects are performing with bar, line, and sparkline graphs or a report or heat map.
SLA
See your SLA target achievements with the dial graph.
*Available only in SquaredUp SCOM Edition
Visio
Attach data to your Visio diagrams and visualize them in your dashboard.
*Available only in SquaredUp SCOM Edition
Choose the product that's right for your team
For the dashboard hero who needs to provide answers across the business.
For cloud teams who need to take control of Azure cost and performance.
For monitoring teams who need to unlock insights from Microsoft SCOM.