Control access with Teams Folders
Editorial Team
If you work in monitoring, you know how important it is for the right people to see the right data. Too much irrelevant data creates a flurry of alerts that hinders productivity, and missing out on key data leads to visibility issues. Worst of all is when you get the wrong people tinkering with data that belongs to other teams.
Most organizations have a multitude of teams each dedicated to their own tool/technology, and it's important to control access to resources based on their roles, so you avoid any "oopsies" when someone who's not supposed to have access to something does something unexpected.
This is where the SquaredUp "Teams Folders" feature comes into picture.
Control access with SquaredUp Teams Folders
In addition to the default SCOM or Azure-level object-based object, Teams Folders provide you the dashboard-level access control. In other words, a user will only be able to see the SCOM or Azure objects they're allowed to see defined by a SCOM or Azure role, and with Teams Folders they'll only be able to see a set of dashboards scoped to that group. Here's how it works:
Let's create a folder and add a few dashboards into it.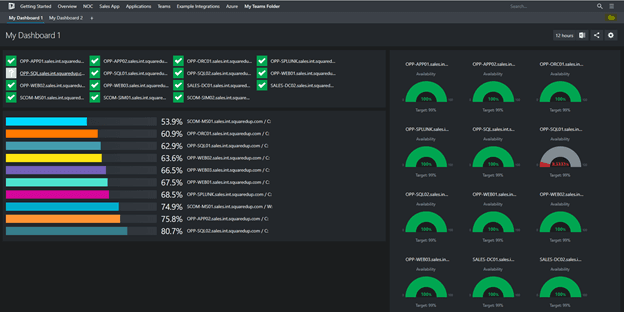 Note that under the "My Teams Folder" I have 2 dashboards, My Dashboard 1 and My Dashboard 2.
For now, it is a "normal" folder. Anyone who logs in to SquaredUp will have this dashboard appear on their navigation bar.

Now let's convert this into a Teams folder. To do it, locate the Folder Icon on the top right corner and click it.

You'll be presented with an option to convert this into a Teams folder. Note that this process is non-reversible so only perform this if you're sure.
You'll now see a section where you can add in the specific users that can operate these folders and restrict everybody else's access as "view only" or "no access". If you choose the latter, any users outside of this list will not be able to see the folder in navigation.
This way, everyone gets access to the data that's most useful to them, and you don't run the risk of any untoward accidents happening.
But, what if you'd like to give certain users viewing access to specific dashboards, without granting them access to the backend (and without incurring extra cost)? Our Open Access feature caters to exactly that. Check it out!
For the full picture of what SquaredUp can do for your SCOM monitoring, check out our "Do it with SquaredUp" page. If you'd like to see how exactly SquaredUp can work for your specific needs, take out a 30-day free trial using the form below or book an introductory call with one of technical team.