New Open Access with SquaredUp 5.0
Vincent Babin
Senior Product Manager, SquaredUp
Our Open Access feature enables easy, and unlimited sharing of dashboards across your organization – with any audience at all. A highly popular feature, these shared dashboards help you bring better visibility and collaboration – conveying the shared "truth"!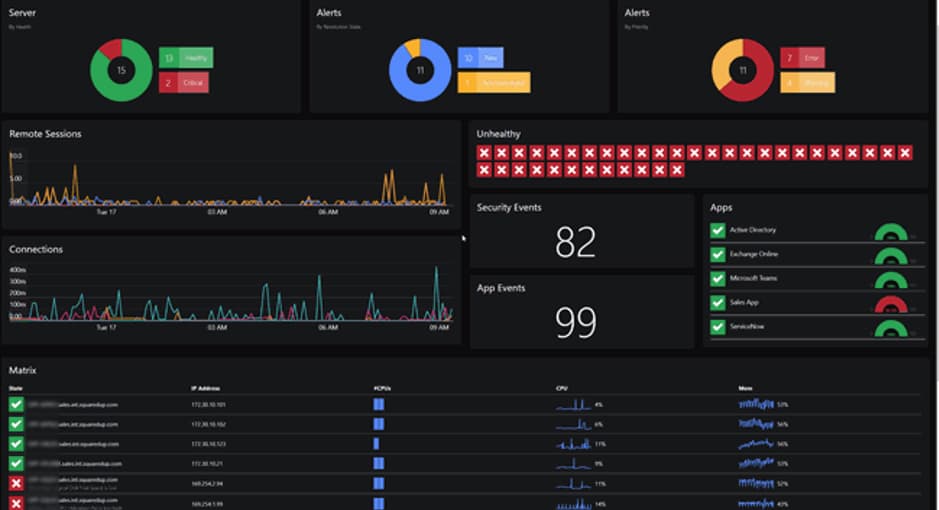 With our latest release SquaredUp 5.0, we have made Open Access dashboards fully interactive, like the rest of our dashboards, so you can see that next level of detail you've been wanting.
You can now drill down to access more if you have a named user license. Plus, we have further strengthened the reliability of Open Access dashboards, as well as made significant improvements to the overall experience. They work seamlessly on all devices now – even mobile!
In short, you can now let anyone in your organization experience SquaredUp's interactive dashboards with a simple click, ultimately helping you deliver the best possible IT services to your business and customers.
Share interactive dashboards with anyone in your organization
Essentially, we have rebuilt Open Access from the ground up and unlocked major benefits along the way. Thanks to a new and modern Open Access engine, not only are the Open Access dashboards now fully interactive (no more static images), they also consume much fewer server resources resulting in greater scalability.
What do I mean by interactive dashboards? If you are familiar with dashboards and perspectives in SquaredUp, you will be well aware of their ease –of use, the power of our visualizations, the roll-over and drilldown capabilities. All of these unique features are now available for anyone in your organization when you share a dashboard with Open Access (note: drilldown requires a named user license).
Open Access shared dashboards are real-time dashboards that refresh automatically at intervals to always display the most up-to-date information. They work great when accessed on any device, including mobile, and can even be embedded into intranet pages to share insights from multiple tools easily.
Under the hood, the engine upgrade also means more reliability and "self-healing": allowing the dashboards to pick up where they left off if the SquaredUp server goes offline, for patching for example. No longer will you have to go round manually refreshing dashboards on the multitude of wall screens around the office.
Oh and your existing Open Access URL will be maintained, so as soon as you upgrade to version 5.0, your Open Access dashboards will refresh seamlessly throughout your organization!
Let's take a look at the new Open Access in action!
Open Access: The feature in action
Displaying a dashboard on a wall screen in an NOC
In this example, we are going to share a dashboard with our Operations team. The dashboard below shows the health and performance from SCOM, alongside ITSM data from Zendesk, and data from other tools such as Solarwinds for our network devices, Pingdom for our end-user experience, Azure Analytics for our web certificates expiry, and much more.
This is a dashboard that my Operations team wants on all the time, and displayed on their big wall screen.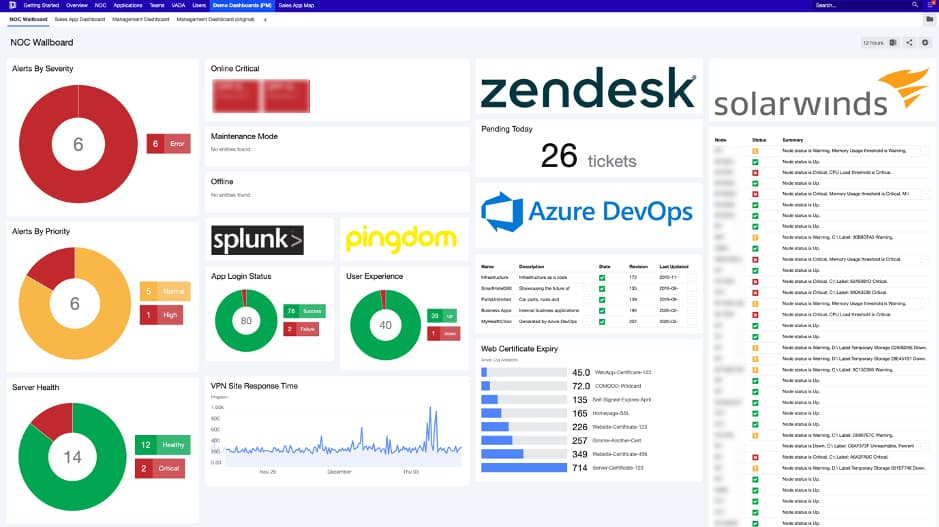 Let's proceed to enable Open Access on this dashboard. With a simple toggle click, my dashboard generates an Open Access URL which I can easily copy and share.
Let's look at the URL I have just copied and that is now displayed on the big wall screen in the Operations centre.
As you can see from above, the Open Access dashboards are fully interactive. I can interact with the status donuts, the VPN performance's line graphs and more. All this data is collected and stored in SCOM, Azure or the underlying tool and SquaredUp simply reads the information when it is accessed.
It is possible to click into an object and drilldown. In this example, I was not logged in to SquaredUp on my big wall screen and so I was prompted to enter my credentials to login to SquaredUp.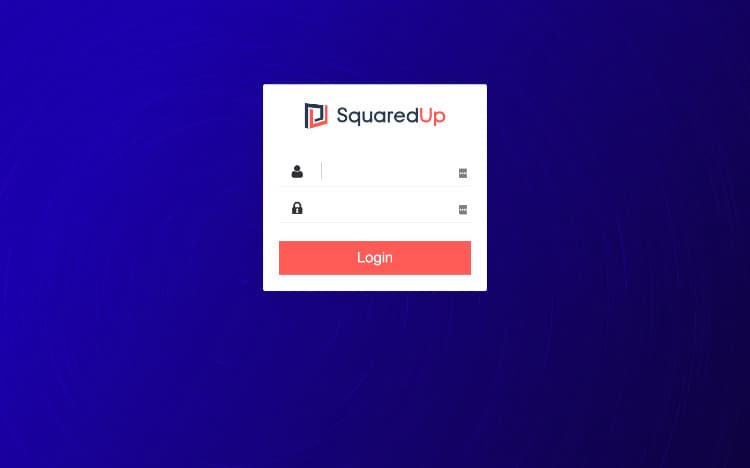 Sharing a dashboard with stakeholders
In this example, we are going to look at a management-level dashboard.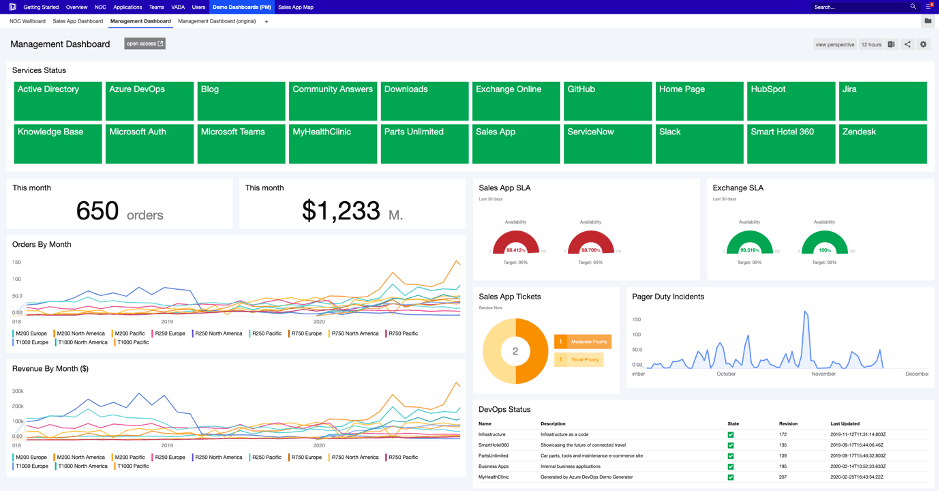 Let's say this dashboard was previously shared using Open Access with our IT Director. We have now upgraded to version 5.0 during which we were prompted to re-generate all our Open Access dashboards in the new format. In the screenshot below, we can see that the URL has been retained after the upgrade.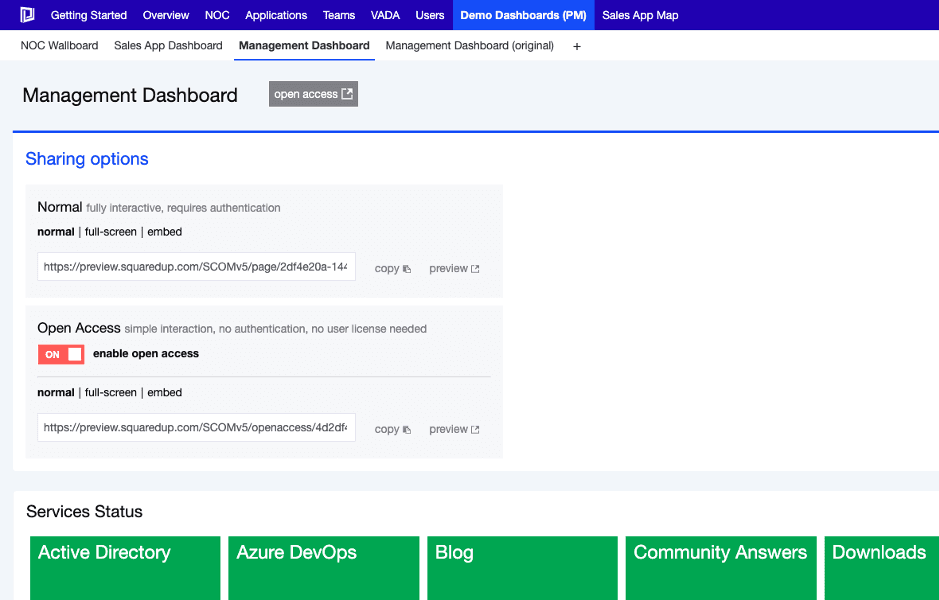 This is going to be handy during an upgrade to version 5.0 – all existing Open Access dashboards will continue to work as normal, seamlessly benefiting from the new scalability, reliability and interactive features that version 5.0 brings.
After a quick check with my IT Director, I was able to confirm that when he accessed the same Open Access dashboard URL after the upgrade, he was now able to interact with the dashboard immediately in a much more intuitive way, especially with the revenue and order's line graphs from our e-commerce platform (SQL), and the Pager Duty incidents overtime (Web API).
What's more, he was now able to click on one of the Azure DevOps releases, and thanks to the drilldown links available in the Web API tile, he was taken directly to our Azure DevOps portal to get more information!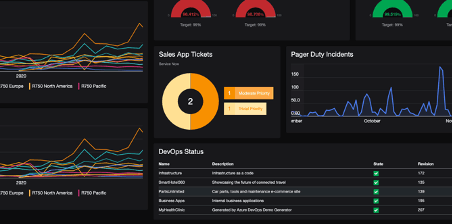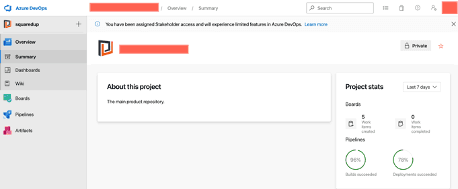 How do I get version 5.0?
We can't wait for all our customers to experience our new Open Access experience.
If you're an existing SquaredUp user and want to start using the new Open Access, you simply need to upgrade to version 5.0 (see SCOM / Azure upgrade documentation for help). Head over to SquaredUp downloads to get version 5.0.
During your upgrade, you will be prompted to upgrade all your Open Access dashboards to the new format.
For more information on installation, upgrades and more, check these useful resources:
Open Access feature overview
Thank you for reading this blog post. To find out more about the major updates we've made to the Dashboard Designer and other features, head over to our version 5.0 blog.