Arup: Fixing blind spots with the SquaredUp Cloud Extension
Case Study
Arup is a multinational professional services firm headquartered in London which provides design, engineering, architecture, planning, and advisory services across every aspect of the built environment.
Dedicated to sustainable development, Arup is a collective of designers, consultants and experts working across 140 countries. Founded to be both humane and excellent, they collaborate with their clients and partners using imagination, technology, and rigour to shape a better world.
It is therefore critical that their digital technology teams are proactively alerted about the state of their digital operations so they can deliver reliable services and react quickly to arising issues. 
Arup Projects
"The SquaredUp Cloud Extension gives us a way to link in multiple integrations that we can't, by default, hook into SCOM."

Anthony Ashmead, Enterprise Monitoring Lead, Arup
Arup's challenge: monitoring blind spots, siloed data, and expensive MPs
Arup uses Microsoft's System Center Operations Manager (SCOM) as their primary infrastructure monitoring tool, along with a core network monitoring tool, and Amazon AWS and Microsoft Azure for their cloud-hosted digital services, among other IT tools. 
Arup's digital strategy led the Enterprise Monitoring Platforms team to leverage the data and status from their various monitoring systems into a 'single pane of glass'. They had chosen Microsoft SCOM for this unified layer and the company relied largely on management packs (MPs) to bring monitoring data from these tools into SCOM.
However: 
Not all available MPs are fit for purpose, with some that are no longer developed. 
Some MPs do the job but are very expensive to license.
MPs simply don't exist for many tools, for instance, the Arup team had to build an MP in-house to manually pull in AWS CloudWatch alerts.
As a result, the status of Arup's most critical services couldn't be seen in one place, so monitoring that was siloed and dispersed made trying to find root causes of issues complex and time-consuming.
"We had huge monitoring blind spots. Data center, cloud, and DevOps tools are hard to centralize into SCOM, so you end up with dashboards for every tool, and sometimes even for every account.

The goal was to become a more data-driven organisation. Observability of this data, along with solid operational procedures, would enable us to achieve this."

Anthony Ashmead, Enterprise Monitoring Lead, Arup
Compounding the challenge, Arup's Enterprise Monitoring Platforms team was still growing. The team had focused its efforts on reporting on their monitoring systems using SquaredUp Dashboard Server. However, with the team's remit increasing, this meant that the resources were then in high demand when it came to administering the platform as well as helping support teams build their dashboards. Plus, they didn't have context or expertise for every tool that needed these dashboards. This slowed the process of getting insights into everyone's hands.
Arup needed a more integrated view of their systems.
Arup's Solution: Fix blind spots with the SquaredUp Cloud Extension
Arup was already using SquaredUp Dashboard Server to dashboard all their IT infrastructure data in one place. They chose to upgrade to the EAM-X tier, which includes the SquaredUp Cloud Extension – offering 50+ native integrations for observability, cloud, and DevOps data.
"We chose to focus on creating a modern observability tool with the tools that we had. SCOM became the data source and SquaredUp is the visibility piece, with the Cloud Extension giving us the plugins to fill all our visibility gaps."

Anthony Ashmead, Enterprise Monitoring Lead, Arup
A single observability portal – no need for MPs
With the SquaredUp Cloud Extension, Arup was able to integrate status from all their tools, including their core network tool and AWS and Azure, in one place. Now they have complete visibility across teams:  
A centralized dashboard for the health of their network and infrastructure 
A shared dashboard for monitoring everything that's business-critical, and the ability to quickly drill down to root causes of issues 
Data from third-party monitoring tools is pulled directly into SCOM so expensive MPs are no longer needed
Next, Arup plans to expand their use of SquaredUp Cloud across teams and services by setting up further plugins and integrations.
"With the SquaredUp Cloud Extension and its plugins, we have been able to surface our business-critical monitoring into our core observability dashboard. This solution gives us a way to link in multiple integrations that we can't, by default, hook into SCOM."

Anthony Ashmead, Enterprise Monitoring Lead, Arup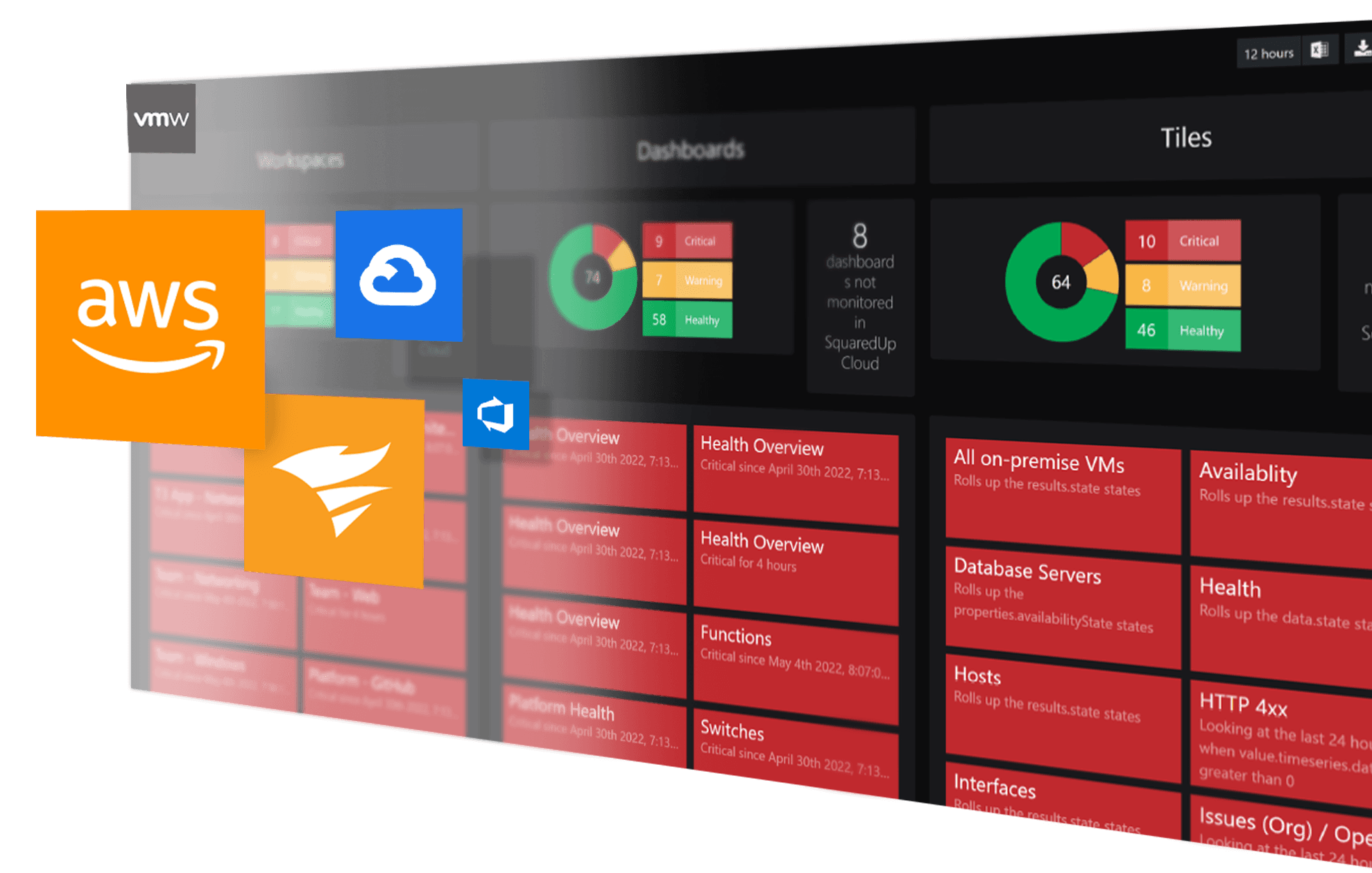 Delegate out dashboard building with self-service
SquaredUp Cloud also enabled the DevOps teams to onboard themselves and build their own AWS dashboards. The small monitoring group that everyone previously relied on was able to delegate out dashboarding to other teams who could build services dashboards for their own monitors, leveraging their own domain expertise. 
"SquaredUp will be our observability portal going forward. We can now pull elements of those observability dashboards that require business critical, 24/7 monitoring into SCOM and surface them through the SquaredUp single pane of glass."

Anthony Ashmead, Enterprise Monitoring Lead, Arup
Try the SquaredUp Cloud Extension free
Try Dashboard Server + the SquaredUp Cloud Extension for free today