Infographics
The best free SCOM Management Packs you can download today
Let these SCOM Management Packs do some of the heavy lifting for you!
SCOM is an amazingly powerful platform, but there's no doubt it's the Management Packs that do all the heavy lifting. So we have rounded up the best free SCOM Management Packs you can get today.
Thanks to SCOM's extensibility, maturity, and a huge install base, there's a plethora of freely available community MPs out there. Knowing they exist is one thing, finding them is often another!
Here are our favorite free SCOM Management Packs to help get you started on your journey to SCOM stardom.
What free SCOM Management Packs are included?
There's a lot to get through, but here are the awesome free MPs you'll find on this web-page:
Community Management Pack Catalog
Let's start with the free SCOM Management Pack that lets you find all other free MPs!
This free MP from Cookdown helps admins find all those weird MPs that are scattered everywhere on the web.
Avoid hours spent digging around the internet for that elusive MP and making sure it's the latest version. The Community MP Catalog extends the SCOM console to simplify the discovery and life-cycle management of community MPs.
You can find every free MP in one place, keep track of what you've installed, and stay up to date with versions.
Easy Tune Management Pack
Easy Tune should be part of every SCOM administrator's toolkit!
We all know that SCOM MPs are great for providing in-depth monitoring – but sometimes, too much detail turns into unwanted noise.
Cookdown's Easy Tune enables you to – like the name promises – easily tune all your MPs, saving hours on creating overrides and quickly reducing alert noise. It even creates overrides automatically, using tuning packs that capture all of the desired overrides for an MP.
Goodbye manual overrides!
OpsMgr Self Maintenance Management Pack
Originally authored by Microsoft MVP and community legend Tao Yang, this Swiss Army knife of SCOM MPs automates many of the routine tasks carried out by SCOM administrators, as well as providing additional rules / monitors to monitor the OpsMgr management group itself. It is a must-have for your SCOM arsenal!
To help you utilize this awesome MP to the fullest, we at SquaredUp have published a Dashboard Pack for the Self-Maintenance MP that contains a dashboard highlighting a number of key SCOM Management Server metrics. Use them together for the best results!
SQL Query Monitoring Management Pack
This is a fantastic community MP originally written by SCOM community member Zvi Uretzky.
It lets you create monitors for SQL query results with SCOM authoring templates, meaning you can work with your application teams, get them to produce queries for their databases, and then use SCOM to centralize, monitor and alert based on your chosen threshold. A great way to get all that juicy application data under one roof!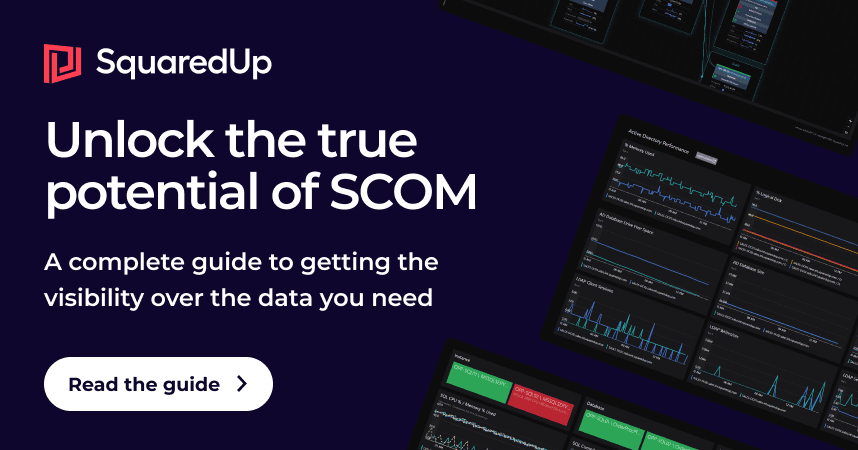 Kevin's SCOM Management MP
This is a Management Pack that eases the administrative burdens in SCOM. 
It gives you a lot of handy discovered properties, and includes tasks that allow you to delegate administrative actions to your users.  It also serves as a good example MP on how to write classes, discoveries, and most importantly many task examples for command line, VBscript, and PowerShell.
Get this MP so you have to hand:
Useful discovered properties
SCOM tasks
PowerShell Monitoring Management Pack
Originally created by us and now managed by Cookdown, the PowerShell Monitoring Management Pack is one that we're pretty sure you're going to love.
We're massive advocates of the power of the SCOM platform but the fact the console only supports VBScript hardly screams 'cutting-edge', so we thought we'd fix that little issue with the PowerShell Monitoring MP - adding support for PowerShell everywhere that you'd expect to see it in the SCOM console's authoring pane.
Now you can use PowerShell to create custom monitors, remediation tasks and data collection.
Bye-bye VBScript, hello PowerShell!
URLGenie: Bulk Website Monitoring Management Pack
Web availability monitoring is a powerful but often overlooked feature in SCOM, allowing you to easily create user-centric, outside-in monitoring and visibility of application performance and availability.
To help you get underway with monitoring lots of sites quickly and easily, Microsoft PFE Tyson Paul has created the awesome Bulk Website Monitoring MP, meaning you can create all your monitors en-masse rather than having to manually grind through creating them one-by-one.
If you're not already underway with web availability monitoring, now there's no excuse!
Log File Monitoring Management Pack
It's not just MVPs writing awesome MPs, SCOM vendors are doing their bit to help too - and not many write better Management Packs than Christian and the rest of the lovely folks over at NiCE in Germany.
Filling in the blanks that SCOM misses out, this MP provides more than 100 custom wizards for the SCOM Authoring console, allowing you to create rules and monitors in order to pull entries from your log files and map them to SCOM performance counters.
OpsLogix Ping Monitoring Management Pack
Yet another stellar vendor-produced MP, the Ping Management Pack equips the SCOM admin with a simple but useful tool to verify device connections within an infrastructure or network.
Using ICMP Ping, the MP facilitates quick checks on whether a monitor or device is up and how quickly the connection is responding. Easily identify the root cause of your connection issues!
SCOM AddOns MailIn Management Pack
This MP by infrastructure specialist Ruben Zimmermann lets you monitor anything that can send an email with SCOM! It enhances SCOM with an email interface and converts each email via a SCOM rule into an alert that indicates the severity of the "warning".
You can now integrate any system, application or critical device into SCOM – anything from an air conditioner to an environmental sensor!
We hope this guide to our top free SCOM Management Packs will make your life as a SCOM admin so much easier!
And don't forget that SCOM 2022 is now out. If you're upgrading, why not add in the most useful SCOM MPs to your deployment so you can get going with ease?
Would you like to stay in touch?
If you like what you've seen and would like to know when we publish more awesome content, then simply fill out the contact form below.
If not, no worries, we're sure we'll meet again...