Coffee break: Citrix Monitoring with GripMatix
You may have heard that Citrix has announced EOL for its SCOM MPs as of June 2020. Why have they decided to do this? What does it mean for customers? And what are the alternatives?
Let our Coffee Break panelists break it down for you.
Adam Kinniburgh - Lead Evangelist and VP Customer Success at SquaredUp
Merijn Overgaauw - Product Architect at GripMatix
Marc van der Veer - Product Architect and Citrix specialist at GripMatix
First off, why monitor CVAD with SCOM?
For one, SCOM remains the most used monitoring platform for monitoring CVAD, according to a recent State of the Union survey by VDI like a PRO. With SCOM, you get the benefit of an all-in-one suite, good data quality, and great add-ons in the form of MPs from vendors. It's easy to integrate all your monitoring into one place, approaching your monitoring with a big picture strategy, rather than separate buckets of data from a collection of tools.
While Citrix seems to be moving away from SCOM in favour of Azure Monitor, it does not seem to be the case that people are monitoring their on-prem resources with Azure Monitor. Azure Monitor is as yet not a like-for-like replacement for SCOM. Moreover, the SCOM product team has been putting out Update Rollups twice a year, and large-scale (virtual) community events such as SCOMathon are still taking place despite the lockdown.

What are some viable alternatives to the Citrix SCOM MPs?
Citrix has announced end-of-life for its SCOM management packs as of June 2020, which has left users looking for alternative technologies.
GripMatix MetrixInsight for CVAD SCOM Management Pack
A useful solution is GripMatix's MetrixInsight for CVAD MP. It has been a reliable alternative to Citrix's SCOM MPs since 2018, especially for customers who preferred not to fork out for Citrix's pricey Premium License. It's certified as Citrix-ready and can be found in the Citrix Ready marketplace, which means that means that the solution has been verified by Citrix to be compatible with CVAD. It also can be found in the list of Microsoft Partner solutions within the SCOM Management console.
Available to all CVAD license customers, the MetrixInsight for CVAD MP is committed to supporting the latest and future CVAD releases, and has regular feature and quality updates. They've also created a complementary SquaredUp Community Dashboard Pack (with 60 drill downs and cool features like the topology overview!), which used alongside MetrixInsight for CVAD, can give you the full CVAD monitoring experience.
But don't simply take our word for it - see it in action for yourself (33:35).
Monitoring features - 30:27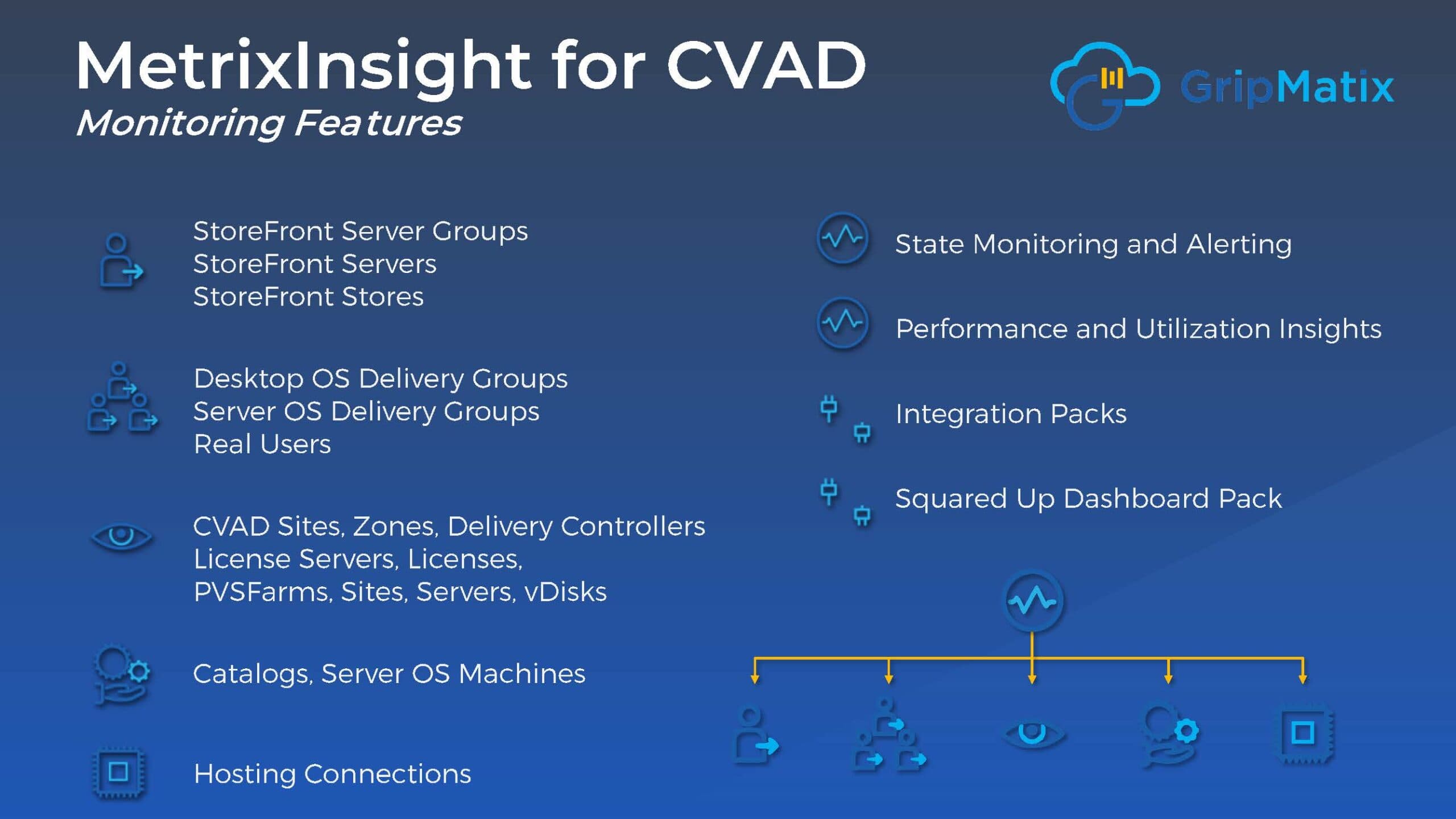 Supported platforms - 31:20