Get ServiceNow data alongside SCOM, Pingdom and more
Editorial Team
For those on an ITIL journey, ServiceNow appears to be the service to beat. ServiceNow has tremendous flexibility and thousands of different workflows to support your business. And if you're using SCOM to populate your CMDB, you're leaps and bounds ahead of the average organization.
Sadly, that flexibility comes with the cost of being stuck inside of the ServiceNow web interface. If you know what you're doing, being tied to the ServiceNow web interface probably isn't a big deal. But if you want to share your ServiceNow data within your organization so that employees outside of your team can react proactively, then you're going to need some help.
SquaredUp's in-built ServiceNow integration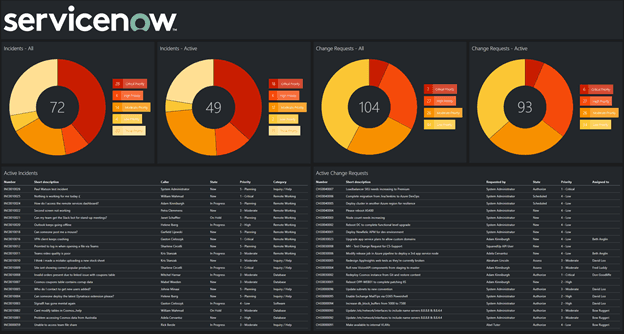 Service Now dashboard showing active Incidents and Change Requests.
With SquaredUp's native ServiceNow tile, you can quickly pull, display, and share your data. And when you combine your ServiceNow data with your SCOM data, you can start doing things that other organizations only dream of. For example, you could show Active Incidents against a specific Enterprise Application. You could place a dashboard of active Incidents and Change Requests in front of your Operations Center. That way, when an end-user calls, your operations center Operators have a clear understanding whether maintenance was scheduled or not.

And the best part, you don't have to give away the keys to your ServiceNow kingdom. Which means there are no limits to how broadly you can share throughout your organization!
Are you ready to take that next step on your ITIL journey?
Or would you like to see all the other ways SquaredUp can simplify your monitoring?
Check out our "Do it with SquaredUp" page to see what else SquaredUp brings to the table. If you'd like to see how exactly SquaredUp can work in your environment, take out a 30-day free trial using the form below or book an introductory call with one of technical team.