Blog
Looking ahead: SquaredUp 5.0 and beyond
Welcome to 2021, a year we are all entering full of hope. None of us knows quite what 2021 holds in store with regards to the global pandemic, but no doubt it will be another year of huge change. That will mean continued pressure on IT organizations across all industries to adapt and deliver new services to the business and users, all while keeping costs as low as possible.
As we start a new year, many of you reading this will be considering your monitoring strategy in 2021 and beyond. What is the future of SCOM? Is this the year that Azure Monitor comes of age? Is it time to consider a new monitoring platform?
Let's take a look at what's coming in 2021 for SCOM, Azure and beyond.
SquaredUp 5.0 – your IT visibility just got a whole lot better
Despite the disruption we all experienced in 2020, the engineering teams at SquaredUp did a phenomenal job of keeping up the pace and delivering high quality releases packed with new features. Last year we delivered four releases on the 4.x platform, finishing the year on a high with the Release Candidate (RC) of SquaredUp 5.0. Today we're announcing General Availability (GA) of SquaredUp 5.0.
Taking us into 2021, version 5 is a major modernization of the SquaredUp platform, revamping many familiar features of 4.x and taking the first steps towards our vision for a true single pane of glass.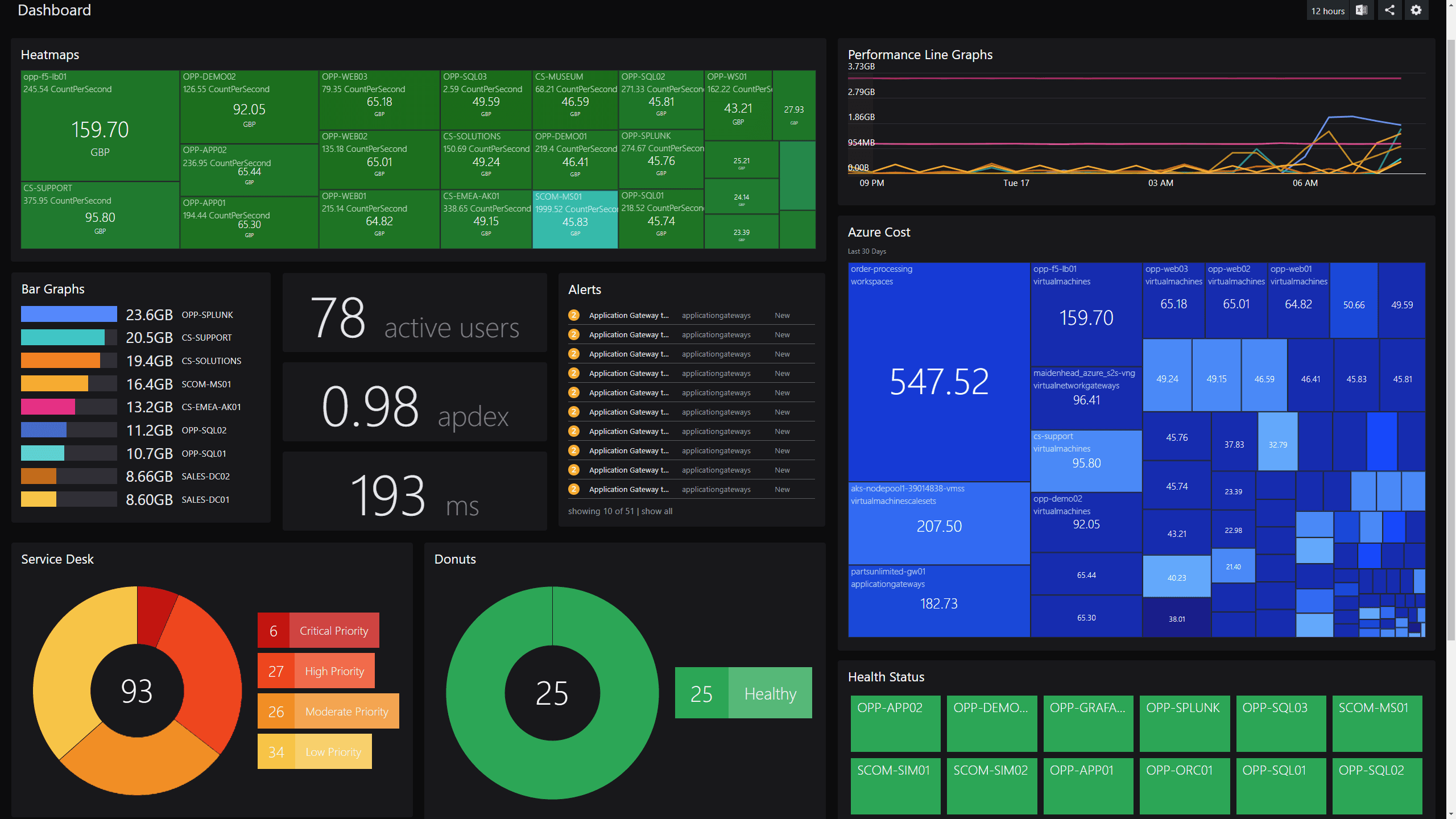 Here are the highlights of SquaredUp 5.0, available for both SCOM and Azure:
A new look
A new layout designer
A new Open Access experience
A new Connect edition, bringing data visualization to your external data
You're going to love these new features, but more importantly your users are going to love these new features too.
For dashboard authors, the new layout design is so much easier to use, allowing them to create more informative dashboards with all the right data in just the right place. For users consuming Open Access dashboards, they'll find the dashboards are now faster to load, more responsive and fully interactive. And with the new styling the data is brighter and clearer, creating a more engaging experience for all users. With SquaredUp 5.0, your dashboards are going to really stand out from the crowd.
The last of the major new features in SquaredUp 5.0 has been a long time coming: you can also now use our data visualizations with external data from other products via the Web API tile. This is a terrific new feature that opens up many new possibilities for bringing data together and providing insights across multiple monitoring tools. If this feature has been a long time coming, why now? Read on…
SCOM is here to stay, and so are we.
Gartner predicts that 30% of Enterprise IT spending will be on cloud and outsourcing by 2023. That's 70% spending on non-cloud and outsourcing – the in-house infrastructure and software we have today. And if you're running traditional Windows and Linux workloads at scale, SCOM remains the best tool on the market. You may be considering a consolidation of your monitoring tools; if so, SCOM should absolutely have a place in your core monitoring strategy.
Microsoft haven't formally announced their updated roadmap for SCOM yet but we're hoping to hear news of the next major release (will it be SCOM 2021?) and there has also been talk of an Azure-hosted version of SCOM offered as a managed service. Both are great news for the SCOM community and signal Microsoft's ongoing commitment to this essential enterprise IT operations tool.
Looking more broadly at the SCOM vendor ecosystem, we've seen a few vendors in the SCOM space go quiet, in particular the end of sale for Live Maps. But there are also some excellent new solutions appearing from our partners: GripMatix have established themselves as the leading provider of a much in-demand Citrix management pack, NiCE continue to release new MPs such as Office365 and MongoDB, and Silect, OpsLogix. SCOM is boosted further still by the extensions from our sister company, Cookdown, who have recently released Easy Tune 2.0, as well as Alert Sync for connecting SCOM to ServiceNow.
The SCOM community is still going strong too. In 2020 we launched the biggest virtual event ever for SCOM, with 16 hours and a whopping 800 live attendees (with over 1400 registrations overall). With feedback like "Very great initiative, great way to show SCOM is not a dead product, but rather growing!" it's clear the SCOM community is as engaged as ever. Look out for news of SCOMathon 2021 coming soon.
SCOM is a monitoring tool you can depend on, and you can depend on SquaredUp to make it work brilliantly for you.
Moving to Azure? Cost control is still the #1 concern.
In 2019 we released SquaredUp for Azure, offering our full dashboard technology on the Azure platform. Perhaps the biggest surprise for us in 2020 was that the interest in SquaredUp dashboards was almost entirely around cost. While many of our customers are only just starting to get to grips with Azure Monitor, all were finding that they had lost control of their Azure spending, and a business priority was to gain visibility, and control over the costs.
In 2020 we delivered brand new dashboards and visualizations for just that, enabling SquaredUp customers to save up to 20% by quickly identifying overspends and zombie resources, and then setting up the dashboards needed for each team to keep on top of, and take responsibility for, their Azure spending. With SquaredUp 5.0, creating and sharing those dashboards is now easier than ever.
For many, developing a comprehensive monitoring solution for their Azure-hosted applications remains a challenge. We're seeing increasing interest in the core platform capabilities of Azure Monitor Logs (and the underlying Azure Data Explorer platform, aka Kusto), but it can still be difficult to understand how to put these into practice.
To add our support to the community discussion around Azure management, we have just announced an exciting new webinar series called Azure Management Talk, where we have invited some of the leading experts in Azure management solutions to share tips and best practices with the community. If your 2021 to-do list involves implementing new Azure monitoring, management and governance solutions then I'd recommend tuning in. The Azure Management Talk webinar replays are now available to watch on demand.
Beyond SCOM and Azure Monitor: our mission is to be your Single Pane of Glass.
What if your 2021 monitoring plans involve more than SCOM and Azure Monitor? Virtually every one of our enterprise customers uses SCOM alongside other monitoring tools. In addition, your business may be adopting AWS or GCP or even multiple clouds, you may be making a major investment in an APM tool such as New Relic, Dynatrace or AppDynamics, or introducing a centralized logging tool such as Splunk or Datadog.
Our customers love the visibility we provide on the SCOM and Azure platforms, and constantly ask us for support for more platforms. The new Web API visualizations of SquaredUp 5.0 is just the start – in 2021 we will be bringing our much-loved dashboards to every tool and platform. And not only that, we're going to connect every tool and platform together, to give you a true single pane of glass.
If this sounds good to you, then help shape our tomorrow by taking our Single Pane of Glass survey today (now closed). We'd truly value your opinion.
Whether SCOM does it all for you, Azure Monitor is the next step, or you're looking further afield then we have plenty in store for you in 2021.
Stay safe and stay tuned.
-Richard
Head over to SquaredUp downloads to get version 5.0, or request a free trial.