Monitoring with SCOM?
Do it with SquaredUp!
Whether you're a first time SCOM user or a certified expert, you haven't truly experienced the power of SCOM until you've tried it with SquaredUp.
Make SCOM the best it can be
There's no denying that SCOM is an excellent monitoring tool with amazing data collection capabilities. There is one problem though – it is not the easiest, quickest or most flexible tool to operate.
This is where SCOM Dashboard Server dashboards come in. Find out below how to: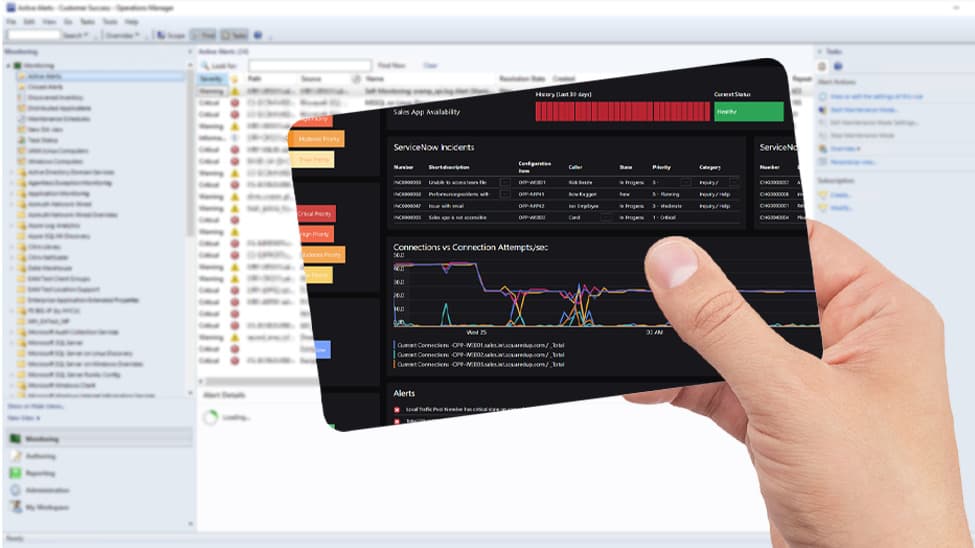 Start your free 30-day trial today
Get the Power of SCOM with the Insight of SquaredUp.
Love it, I wish SCOM itself was as good at its job as SquaredUp

Andrew Parsons, Dorset Council
Get insight, not just data
However powerful SCOM might be, we can all agree that the console is not exactly user friendly. With SquaredUp, you can create beautiful dashboards and data visualizations perfectly tailored to your monitoring needs. No clutter on your screens – only the information you need, presented in the most usable way.
Find out how to gain insight from your data
Reduce monitoring silos
There's a monitoring solution out there for every application or technology. But often, too many tools leads to disparate silos - and that not only hinders information sharing, it also reduces big picture visibility.
To really get all your teams singing from the same hymn sheet, give them a modern, HTML5 platform with access to all the metrics that matter to them. You, on the other hand, get to see all the data in context, from a true single pane of glass.
Find out how you can reduce monitoring silos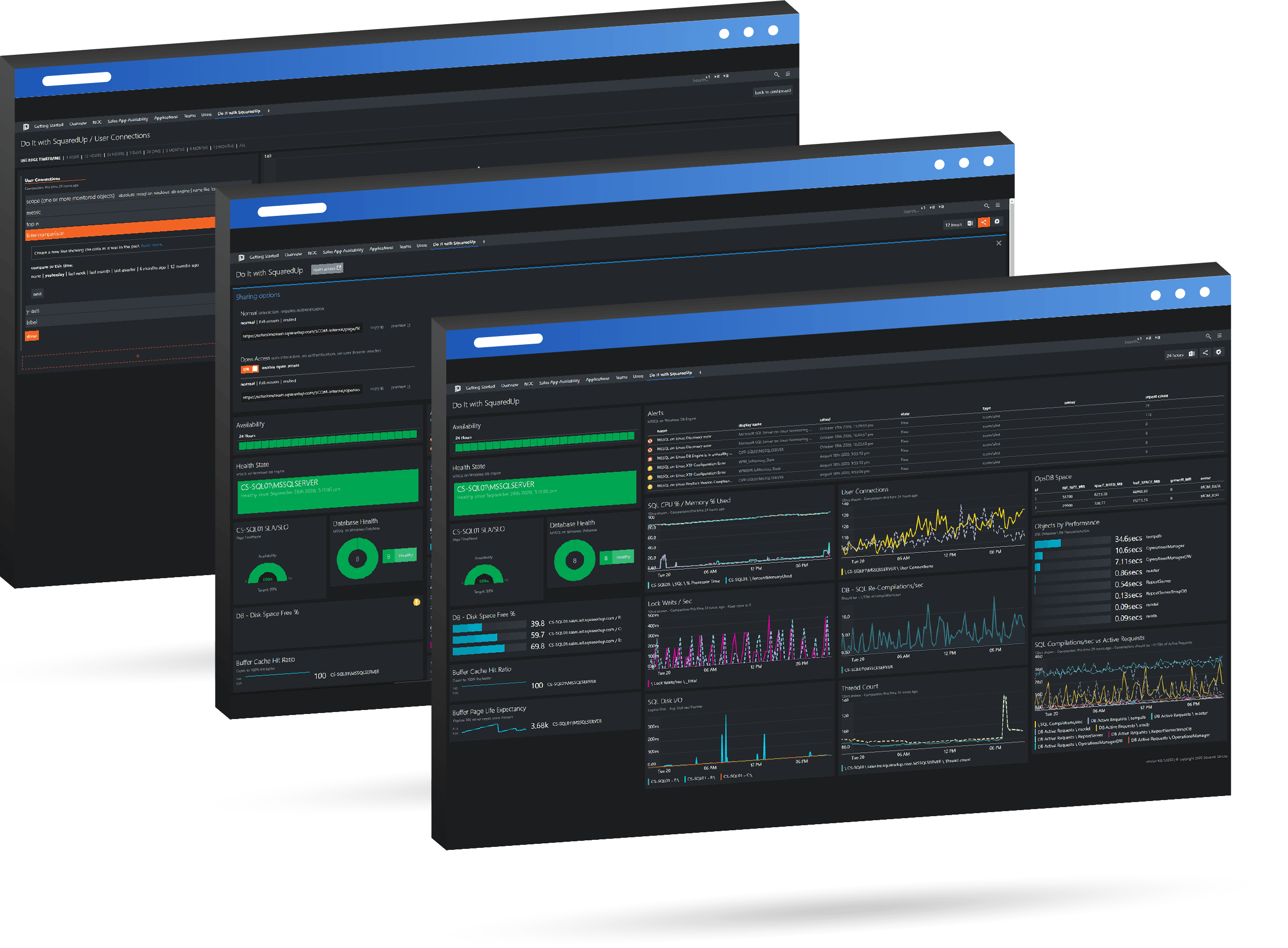 Share application status with the business
Even if SCOM allowed you to share health status and availability with the business, let's be honest - with how complicated and time-consuming it is to create a report - you wouldn't want to.
We know that what managers and other stakeholders really want to see is whether the applications they rely on are online and healthy.
Find out how to easily share application status with the business
Simple and transparent pricing
Enterprise-ready software without the enterprise hard-sell.
10+ named users

SCOM dashboards

Dashboards for SCOM and web content

Drilldowns and Insights

SCOM data

Multiple data sources

SCOM data plus Web API, SQL, ServiceNow, Elastic Search, Powershell, Splunk

Roll-up health from 60+ tools

Fix SCOM's blind spots by surfacing health states from VMware, Solarwinds, AWS, AzureDevOps, Dynatrace and more.

Application discovery and monitoring

Automatically discover and map your applications and view live health states and performance.

Enterprise applications

Unlimited sharing

Open Access and Team Folders

Scalable deployment

High Availability and a free Test & Dev License

SCOM Integration
Monitor SCOM performance natively
Add any data to dashboards with native integrations
(EAM and Connect only)
All tiers come with technical support that won't let you down.
Tier
Users
Length of license
Have a question?
Contact our friendly sales team.
To buy via purchase order (PO), please request a quote using the button above.
SCOM FAQ

Is SquaredUp an annual subscription or perpetual license?
SquaredUp is a flexible, annual subscription license.
Are support and upgrades included?
Yes, support and upgrades are included in the cost of your annual subscription license, meaning that whenever we release a new minor or major version of SquaredUp, you'll get it free-of-charge.
What are Named Users?
Named Users have full, interactive access to SquaredUp, including dashboard drilldowns, perspectives, performance reporting, alert management and more. A SquaredUp Named User requires an Active Directory account and permissions to access your SCOM Management Group.
Can I purchase additional Named User licenses at a later stage?
Yes, you can purchase additional users at any time on a co-termed basis, whether in multiples of users (e.g. an additional five Named Users for an existing Teams package) or moving from one licensing option to another (e.g. upgrading from an Essentials to Teams).
Can the same user access SquaredUp from more than one device at the same time?
No. Whilst a Named User can roam across devices, the same user cannot connect from more than one device simultaneously.
What are Open Access Dashboards?
Open Access are shared versions of your SquaredUp dashboards. Users can access Open Access dashboards without authenticating and without requiring a Named User license. They can interact with the dashboard, but they cannot drilldown without a Named User license. Open Access dashboards are highly scalable, and are perfect for publishing and sharing widely throughout your organisation because (i) you don't need to set up user permissions (ii) our Open Access technology allows multiple users to view dashboards without additional load on your monitoring infrastructure.
Do Open Access Dashboards show live data?
Yes, Open Access dashboards show live data and refresh every 60 seconds by default.
Is there any limit to the number of Dashboards I can create?
No. Irrespective of what SquaredUp license you have you can create as many Dashboards as you want.
Are there any additional charges for the Management Pack required to power VADA?
No, this Management Pack is available free of charge.
Can SquaredUp be licensed to cover multiple SCOM Management Groups?
Yes, please contact our friendly sales team to request a bespoke quote if you wish to run SquaredUp against multiple SCOM Management Groups.