Blog
Set up Availability Monitoring from the end-user's perspective
A recurring theme of modern monitoring tools is that they focus on the user, not the systems. To put it another way, while monitoring your infrastructure is essential, it matters more when your customers can't interact with your application. That would mean lost sales, lost time, unhappy people – and unfortunately for us, unhappy people like to share how grumpy they are. It's bad for business!
But that's why we've made Availability Monitoring in SquaredUp.
SquaredUp Availability Monitoring
With Availability Monitoring, the experience of the end user is front and center. The best bit is that it's quick and easy to use, with much of the work built in for you. In just a few clicks, you can quickly set up some simple tests to ensure your application is working from various places on your network. To be clear, these tests are external to your application. That means they are an independent source of valuable information to let you know what your customers are experiencing. Definitely a lot more reliable and a lot nicer than the occasional grumpy support ticket.
Of course, you could create a custom monitor in SCOM to do this, but it takes a lot of time to set things up and relate everything together. And you don't get all the other features in SquaredUp that make monitoring with SCOM such a breeze, like Open Access where you can easily share dashboards with the whole business without extra charge, and VADA which automatically discovers and maps your applications.
So that's where SquaredUp's EAM edition with Availability Monitoring takes the prize. Right out of the box, you can add your script that tests your application and then execute it from any of your SCOM agents in your network.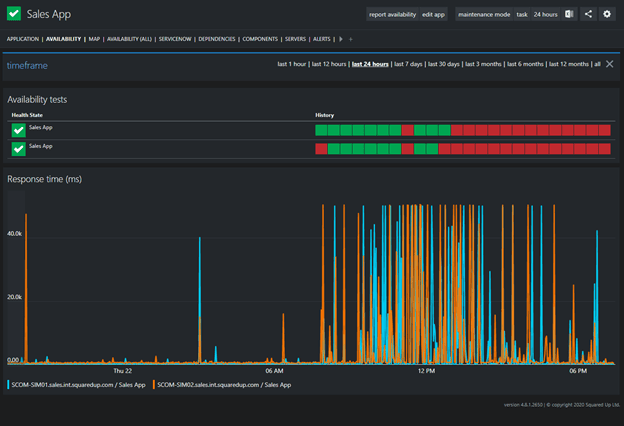 How's that for awesome?
And that's not all, there is so much more that SquaredUp can do to elevate your SCOM monitoring – check it out! If you'd like to see how exactly SquaredUp can work for you, take out a 30-day free trial using the form below or book an introductory call with one of technical team.