Dashboard anything for free: SquaredUp Community Edition
How would your IT team be transformed if you could dashboard anything, for free?
If you're an IT pro and want an enterprise dashboarding tool that's quick to implement, easy to set up, and effortless to maintain, you need SquaredUp Community Edition!
The public preview of SquaredUp Community Edition just went live!
Community Edition functions independently of SCOM and Azure and introduces a new PowerShell tile to take dashboarding a big step further. Now you can dashboard virtually any data.
You can connect to anything and get powerful visualizations fast.
Download SquaredUp Community Edition for free
I love the PowerShell data sources to get basically any data into SquaredUp!

Danny, Systems Administrator at Purdue University
Easy, real-time visualizations of any data
SquaredUp is famous for its IT dashboards. We've poured over a decade of R&D into building seamless dashboarding for enterprise IT teams, primarily for SCOM and Azure. But Community Edition goes beyond.
SCOM and Azure aren't required. You can connect Community Edition to any enterprise IT tool for powerful visualizations in minutes. Plus, you've got endless extensibility with the Web API tile, PowerShell tile, and SQL visualization capabilities.
Unlimited integrations
We designed Community Edition with Enterprise IT in mind – it integrates with Active Directory out of the box and works with Windows Server. And you can add as many other integrations as you need.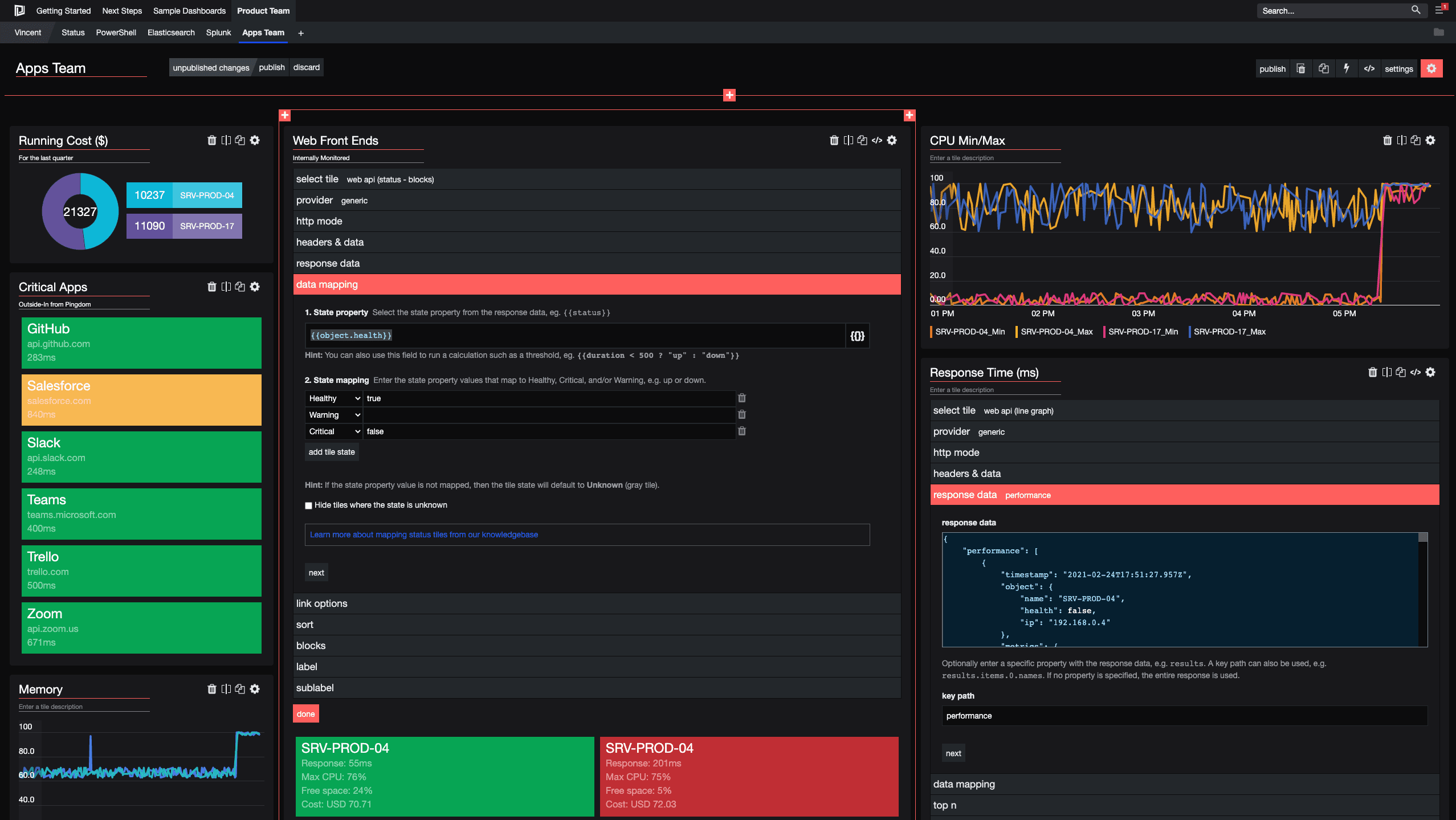 Here are just a few tools you can connect to and visualize that make Community Edition ideal for enterprise IT pros like you:
Web API - so you can connect to any tool or system with an API endpoint
PowerShell - to extract, combine and visualize data from anywhere
SQL - so you can still read directly from databases
Azure Log Analytics
And more of your favorite monitoring tools
Simply install Community Edition anywhere in your own environment - no need to connect to anything first - to get a live stream of real-time data direct from the source into a beautiful dashboard that gives you the eyes-on visualizations you and the teams need to keep everything ticking over smoothly.
Unlimited dashboards built with ease
Build as many actionable dashboards as you need using the straightforward HTML5 Dashboard Designer or you can choose dashboards from the template library.
SquaredUp Community Edition is also easier to use than other free dashboarding tools, like Grafana and Power BI, so there's next to no setup time meaning you can get dashboards on the wall monitors and in your manager's hands fast.
The SquaredUp Dashboards are beautiful, and very easy to organize to show both management and technical employees critical data at a glance.

Danny, Systems Administrator at Purdue University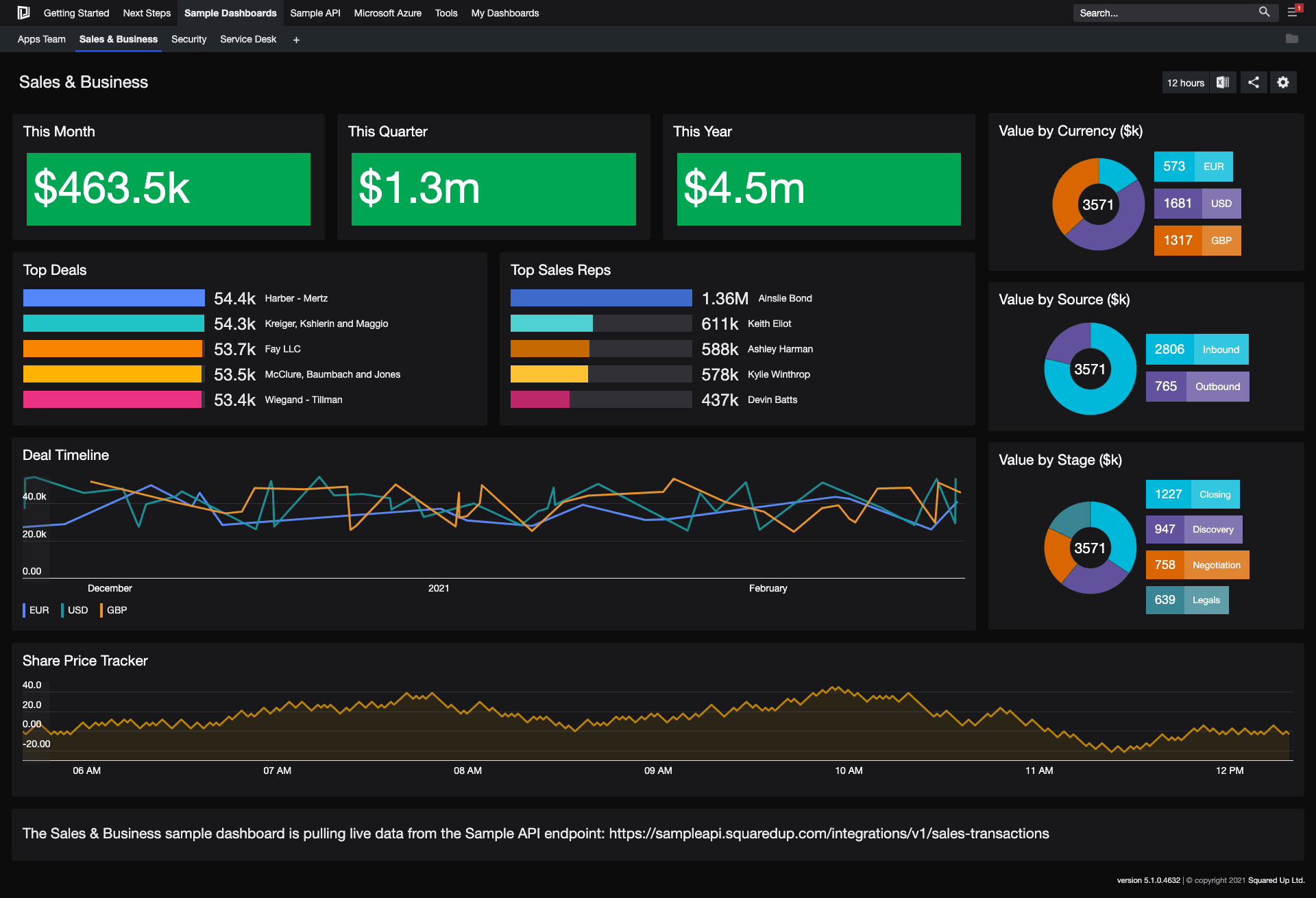 Unlimited sharing
You can also drill out to other data sources and share the dashboards with as many people as you want with Open Access.
Plus, there's community support through SquaredUp Community Answers so you can get all your questions answered and discuss data visualization for IT with peers and SquaredUp experts.
And it's free.
The setup was as usual: smooth.

Infrastructure Architect
See Community Edition in action
Stay tuned for the product preview webinar on 25th March to see Community Edition in action, get hints and tips on getting the most out of your visualizations, and see examples at work.
Download Community Edition Free
Simply fill in your details and you'll instantly get a free license for SquaredUp Community Edition.