Guides
What's new in SCOM 2019?
See the highlights presented by Aditya Goda, Microsoft Program Manager for SCOM
Don't miss our step by step guide to upgrading to SCOM 2019 and SCOM 2022. Also check out our blog on SCOM 2022 key highlights.
We were delighted to welcome Aditya Goda (Microsoft Program Manager) onto our Coffee Break webinar series, to discuss what's new in SCOM 2019.
We cover the highlights below – you'll see new features, demo videos, and a live Q & A with Microsoft. We'll also tell you the release date!
Before we start though, let's consider that SCOM 2019 is a Long-Term Servicing Channel (LTSC) release. This commits Microsoft to provide five years of mainstream support, plus five years of extended support. Awesome!
Microsoft also announced they will no longer develop Semi-Annual Channel releases (i.e. they will not release 19XX). They will focus on LTSC releases, with Update Rollouts available every six months over the five year mainstream support window.
Now let's dive into those features.
Notification and Subscription Enhancements
There's good news for admins here. Microsoft will now let you use complex operators in the notifications area. In addition to the previous 'AND' operator, you'll also discover OR, and Exclude operators (handy if you want to exclude test servers from your alerts). Regular expressions make an appearance too.
And even better news, SCOM 2019 includes HTML styling for alert emails. Going forward, you'll build emails with colour coding, and embed links to the alert, alert source, and monitor – directly within the email.
Click play to jump right into the demo (we've set the timestamp to the appropriate point).
Alert Management for Monitors
SCOM 2019 introduces a new concept – if a monitor remains unhealthy, alerts can't be closed. But if you need to manually close alerts, Microsoft baked in an alert closure failure dashboard. It allows you to reset the health of any monitor.
Click play to jump right into the demo (we've set the timestamp to the appropriate point).
Linux / Unix Monitoring Enhancements
Those of you who monitor Linux and UNIX workloads likely fear failovers. You know that it will duplicate all active alerts. Luckily, Microsoft recognised this issue and resolved it for both Linux and Network devices.
The latest version of SCOM also introduces recommendations for third-party Management Packs (MP) for Linux/UNIX. You'll start to receive reminders to update MPs and much more.
And SCOM 2019 extends Linux log file monitoring to include any data source, from Docker and Azure, through to Java applications logs.
Azure Management Pack for SCOM
The Azure Management Pack for SCOM receives an upgrade, with Microsoft keen for you to monitor more Azure solutions from within SCOM. The MP will discover instances across many different Azure services (such as App Insights) and allow you to define performance metrics for each service.
Crucially, admins will enjoy access to dashboards which show what you monitor in Azure. And rest assured, the MP will work with earlier versions of SCOM.
Click play to jump right into the demo (we've set the timestamp to the appropriate point).
Enable Service Logon
SCOM 2019 defaults to logging on Run As account users as a service. It replaces local log on, which cached passwords and created security issues in some environments. SCOM will send you an alert if any configured Run as Account does not have the right to log on as a service.
HTML Dashboards
A topic that's close to our hearts, the HTML5 console have been updated in SCOM 2019:
HTML5 console no longer depend on Silverlight
Custom dashboards are available
Inline actions supported within your dashboards (i.e. make changes within your dashboard)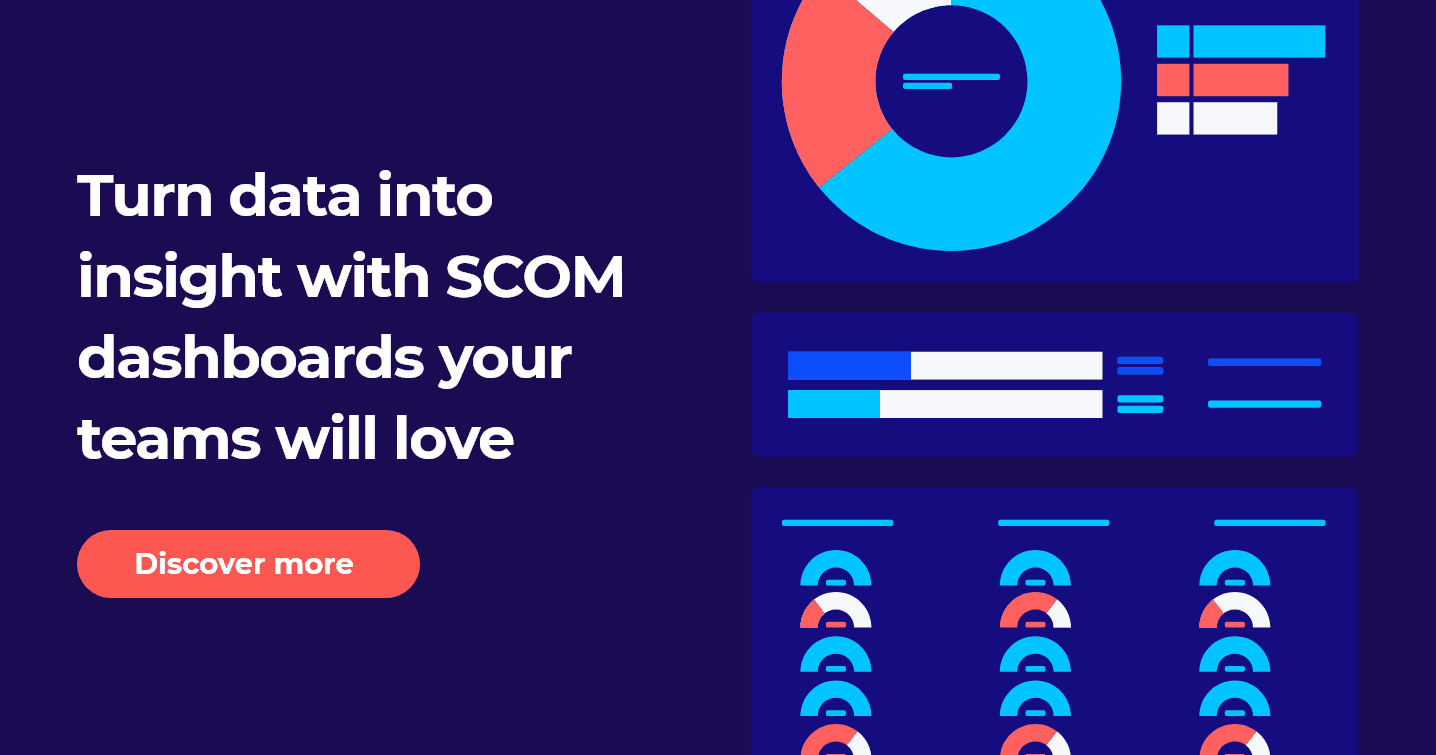 We're very pleased to see the end of the Silverlight dependencies, as an HTML5 console is an essential requirement for any monitoring tool being considered in 2019.
That said, the SCOM console experience is still based on a UI design that is showing its age and has never engaged users. We have yet to hear of anyone who has be truly successful with getting regular IT teams engaged with the SCOM console.
It's a different story with SquaredUp - with a clean modern design, fully-customisable views, and integrations with other monitoring tools, SquaredUp dashboards still remain the best way to engage your users and succeed with monitoring.
For an independent view on how the SCOM HTML5 console compares to SquaredUp, check out MVP Billy York's blog 'SCOM HTML5 Dashboards: SquaredUp vs SCOM 1801 Dashboard'.
Miscellaneous
SCOM 2019 brings a bunch more features and fixes we haven't covered yet:
Ability added to enable/disable APM component during agent install / repair
Schedule maintenance mode + SQL always ON will now work without issue.
Enhanced certificate validation for web application monitoring
Support added for SQL Server 2017
Support added for OpenSSL 1.1.0 for Linux platforms
Kerberos support added for Linux agent
Monitoring support added for Windows Server 2019
Monitoring support added for application servers including Tomcat 9, WildFly 14, WebSphere 9.0, and Web Logic Server 12c R2
VSAE support added for Visual studio 2017
Visual Studio 2019 support will be added after SCOM 2019 GA
Monitoring support added for Ubuntu 18 and Debian9
Client-side monitoring enabled on Edge and Chrome browsers
Monitoring support enabled for SharePoint 2016
Download dependency maps from Service Map into SCOM, and put them next to object health state
Upgrading to SCOM 2019
With all these must-have improvements you're probably already thinking about an upgrade, and we have the best place to start:
Upgrading to SCOM 2019 Step-by-step, a guest blog by Leon Laude from thesystemcenterblog.com
Sign up for the latest news and advice
SCOM 2019 is just one of the recent topics we've covered in our Coffee Break Webinar Series which offers bite-sized news and information on SCOM, Azure Monitor and SquaredUp.
Register now for upcoming Coffee break webinars!
Check out our other SCOM guides:
5 steps to achieving SCOM success
20 Operations Manager tips in 20 minutes