SCOM is the most popular tool for monitoring SBC/ VDI
Google "SCOM and Azure" and the top hits will tell you all about "Moving from SCOM to Azure Monitor", "Changing of the guard…", and "Microsoft explains why it replaced SCOM with Azure Monitor" etc.
If you only read the marketing, you'd be forgiven for thinking SCOM is being replaced. Microsoft's marketing push on Azure Monitor has no doubt caused some uncertainty about the position of SCOM. In fact, it is not often at all that we get a clear picture of which monitoring tools are in use.
Way back in 2010, Gartner cited SCOM as the most widely deployed monitoring tool in their Magic Quadrant for IT Event Correlation and Analysis. This firmly remains the case in our experience, but there have been few studies conducted that can confirm this for a fact, not least in the face of Microsoft's new messaging.
Luckily for us, this survey by server-based desktop industry analysts, VDI like a PRO, provides some insight on what monitoring tools are being used in enterprise IT today.
What products do you use to monitor your SBC/ VDI environments?

For the previously unacquainted, VDI stands for virtual desktop infrastructure. It is the technology that provides and manages virtual desktops, hosting desktop environments on a centralised server and deploying them to end clients on a secure and fully customisable per user basis. Citrix are the main providers of VDI. SBC refers to server-based computing and works the same way as VDI, except with applications as well as desktops.
When asked what products they used to monitor their SBC/ VDI environments, 12.09% of over 580 respondents selected Microsoft OMS/SCOM, making it by far the most popular solution for monitoring the SBC/ VDI environment.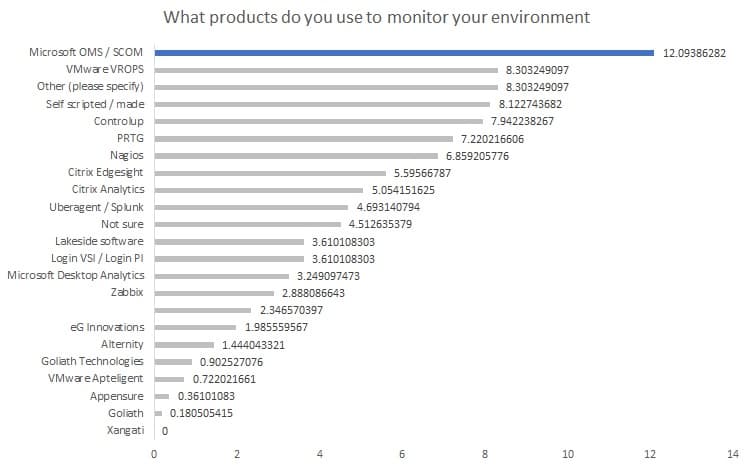 SCOM clearly dominates as the hot favourite Citrix monitoring tool out of 23 options. While the survey lists both OMS and SCOM as a single option, we think it's very likely that respondents who selected this option are all using SCOM. We suspect the authors were playing safe by listing OMS alongside SCOM (although OMS is no longer a product, having evolved into Azure Monitor). Azure Monitor is primarily designed for monitoring Azure-hosted resources and anecdotally we don't see any use of Azure Monitor to monitor enterprise SBC/VDI. So we think it's safe to assume that 100% of this response represents SCOM use.
It's reassuring, but not all that surprising, that SCOM remains the most popular tool for monitoring SBC/VDI. In our view, there is simply no better tool for enterprise infrastructure monitoring and, looking at these results, we're confident SCOM will be the tool of choice for many years to come.
But that doesn't mean it's perfect. There are two common challenges when monitoring VDI infrastructure like Citrix.
First, the in-depth monitoring that the management pack (MP) from Citrix provides is expensive and not a viable option for many organisations.
Second, it's still hard to get Citrix administrations engaged with SCOM and the monitoring it provides. They avoid the SCOM console and consider SCOM alerts too noisy.
But all that is changing. If the challenges above sound familiar then check out a new feature-packed Citrix MP created by GripMatix. These guys really know their stuff, and it's a very compelling alternative to Citrix's own MP. In addition, GripMatix have created a SquaredUp Dashboard Pack to provide specialist dashboards and drilldowns that will fully engage your Citrix administrators with the immense monitoring capabilities of SCOM.