Fixing SCOM's blind spots
with SquaredUp EAM-X
Since its origins as MOM 2000, SCOM has been widely regarded for being awesome at two things: firstly, being the hands-down best solution for monitoring Windows Server environments (it is Microsoft's monitoring tool, after all); and secondly, being an extensible monitoring platform that can act as a single pane of glass across your data center environment. 
20 years later it is still best-in-class for the former – there is still no other monitoring tool out there that can provide such breadth, depth and scale in a Microsoft-centric data center technology stack. Windows Server, SQL, Active Directory, HyperV, Exchange, SharePoint, plus Linux, Oracle and more… Should you stick with SCOM for your Windows monitoring? 100% yes. 
But SCOM has glaring blind spots
But with IT ecosystems growing increasingly diverse and applications more distributed, SCOM has developed some rather significant blind spots. To begin with, using SCOM as a single pane of glass was never easy, and only customers who invested heavily in management pack authoring skills or expensive third-party management packs were able to come close to achieving this. Generally speaking, SCOM users have little to no visibility over anything in the Data Center and Cloud & DevOps spaces. 
Blind spot 1: the Data Center
In terms of the Data Center space, tools like VMware, SolarWinds, Nagios, and Kubernetes have always been blind spots for SCOM. While SCOM includes some visibility of VMware and network monitoring, it's never been enough, and newer technologies like containers lie beyond the limits of SCOM entirely. While these tools might each have their own dashboards, no admin wants (or has the time) to log into a hundred different applications to track down a problem. We all need that single pane of glass. 
Blind spot 2: Cloud & DevOps spaces
In the Cloud & DevOps spaces, there is even less visibility within the eco-system of tooling and monitoring around the Dev teams, as they now typically focus on building Cloud-native applications utilizing modern architectures such as serverless. But how are you supposed to know that your DevOps pipeline isn't clogged? Is the Cloud down or did you accidentally turn stuff off? The fractured nature of a Cloud stack means that it's next to impossible to monitor each individual tool effectively without a single pane of glass. There is an increasing need to extend SCOM visibility into the Cloud. 
Needless to say, these blind spots constitute a clear business risk and can severely hinder proactive monitoring and problem-solving. This lack of visibility can mean a series of business impacts that we are unable to foresee or troubleshoot – such as outages at all levels and the inability to efficiently track down the root cause of a problem across technologies and teams. 
The limitations of SCOM MPs
Why does SCOM have these blind spots? The underlying reason is that there are limitations to SCOM's Management Packs, which as we know, are the drivers behind SCOM's extensive reach. 
Expensive, or not available 
There are some excellent SCOM third-party MPs, but they're expensive. In other cases, they aren't available at all.  
Lack of knowledge and buy-in 
The complexity of MP authoring is yet another hurdle, as is a gap in knowledge of external tools within the SCOM team. There is a general lack of SCOM engagement within the other teams who have knowledge of the relevant tools. 
Limited access to newer technologies 
New technologies such as cloud, containers and serverless have moved beyond the reach of SCOM's agent-based model. Its architecture is not designed for faster-moving DevOps environments, dynamic resources of containers and cloud services, and more complex microservice application architectures.  
Implications for SquaredUp
Customers have relied on SquaredUp as their single pane of glass – a visualization layer sitting on top of SCOM. But until now, SquaredUp visibility has been largely limited by what can be pulled into the SCOM object model. While SquaredUp's EAM VADA diagrams offer fantastic visibility of infrastructure – showing how business critical applications and services can be mapped out and monitored with SCOM and SquaredUp EAM on top – there are unfortunately a few blind spots that SquaredUp SCOM Edition alone cannot shed light on.  
For instance, there is no visibility over hosting infrastructure such as VMware until it impacts the business. You are also missing application dependencies hosted in the cloud, if part of your application is running up in AWS, for example. 
The goal: no more blind spots 
For any number of valid reasons, you might not be able, ready or willing to replace SCOM. Is it possible to continue using SCOM, but overcome these blind spots to get a true single pane of glass?  
Introducing EAM-X
With our latest product tier, EAM-X, you can extend SCOM by plugging in any Data Center or Cloud platform: VMware, Citrix, Solarwinds, Nagios, Azure Monitor, AWS Cloud Watch, Dynatrace, Prometheus, Kubernetes – you name it.  
You get the freedom to scale your monitoring visibility across every tool and platform, while making full use of your existing investments in SCOM and SquaredUp. 
Think it sounds too good to be true? Let us walk you through how it works. 
What is EAM-X and how does it work?
EAM-X is a new tier of SquaredUp SCOM Edition that is powered by SquaredUp Cloud – our next gen dashboarding platform. SquaredUp Cloud is a SaaS-based application that plugs into any data, wherever it lives, and surfaces it in one place. With 40+ native plugins (and many more coming) it allows you to easily surface any data from your Data Center or Cloud platforms. We'll have more exciting announcements for SquaredUp Cloud in the future! 
Using the Cloud Extension Management Pack, these high-level health rollups from SquaredUp Cloud can be brought into SCOM, significantly extending SCOM visibility. Everything will flow through into SCOM and your SquaredUp dashboards, so you'll continue to get drilldowns, Open Access dashboards, and reporting on top of the unified object model in SCOM.  
Also, it is plug-and-play – it requires no changes to your existing SquaredUp investments.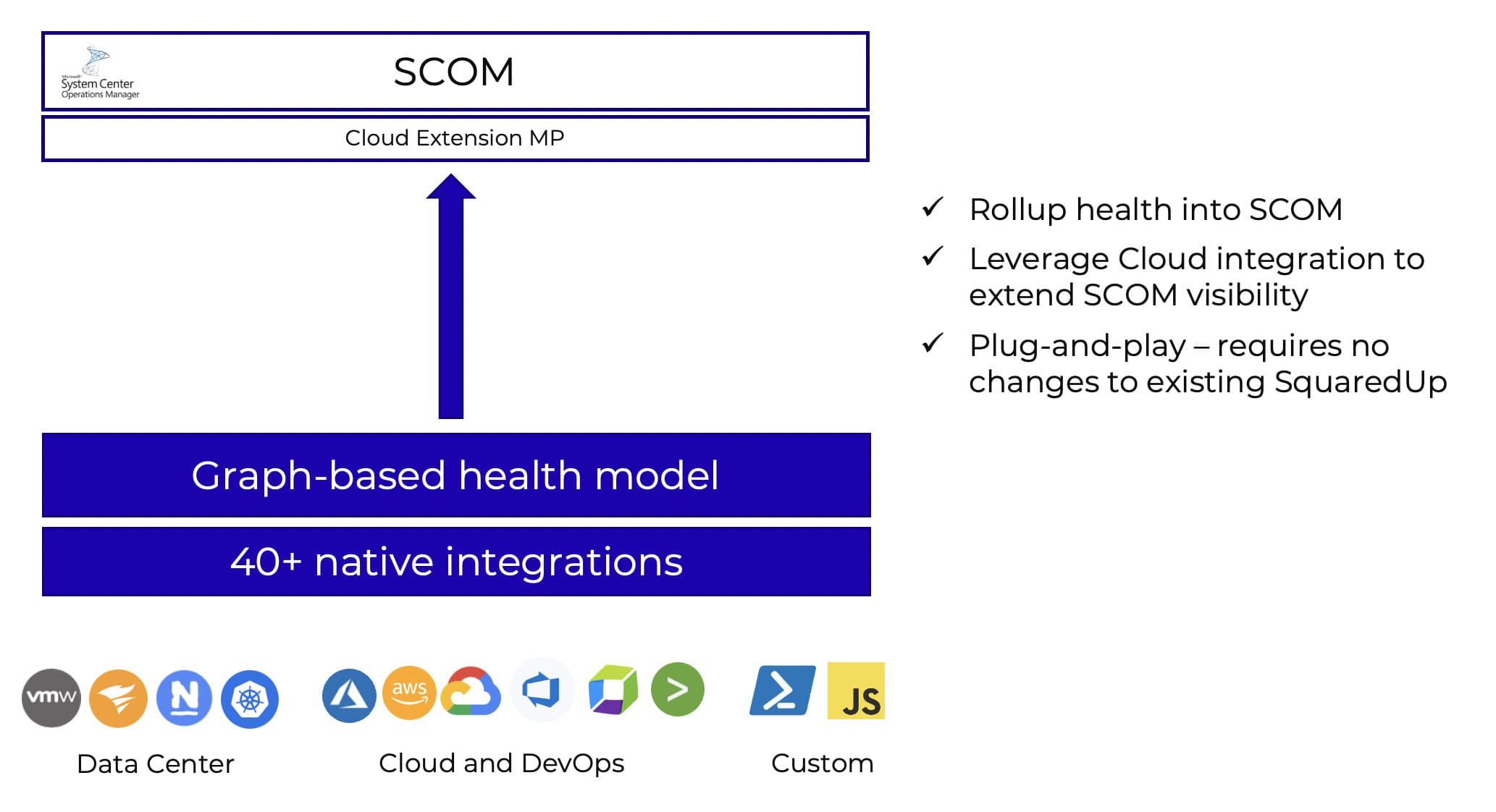 A comparison: SCOM Edition vs EAM-X
SCOM Edition on its own: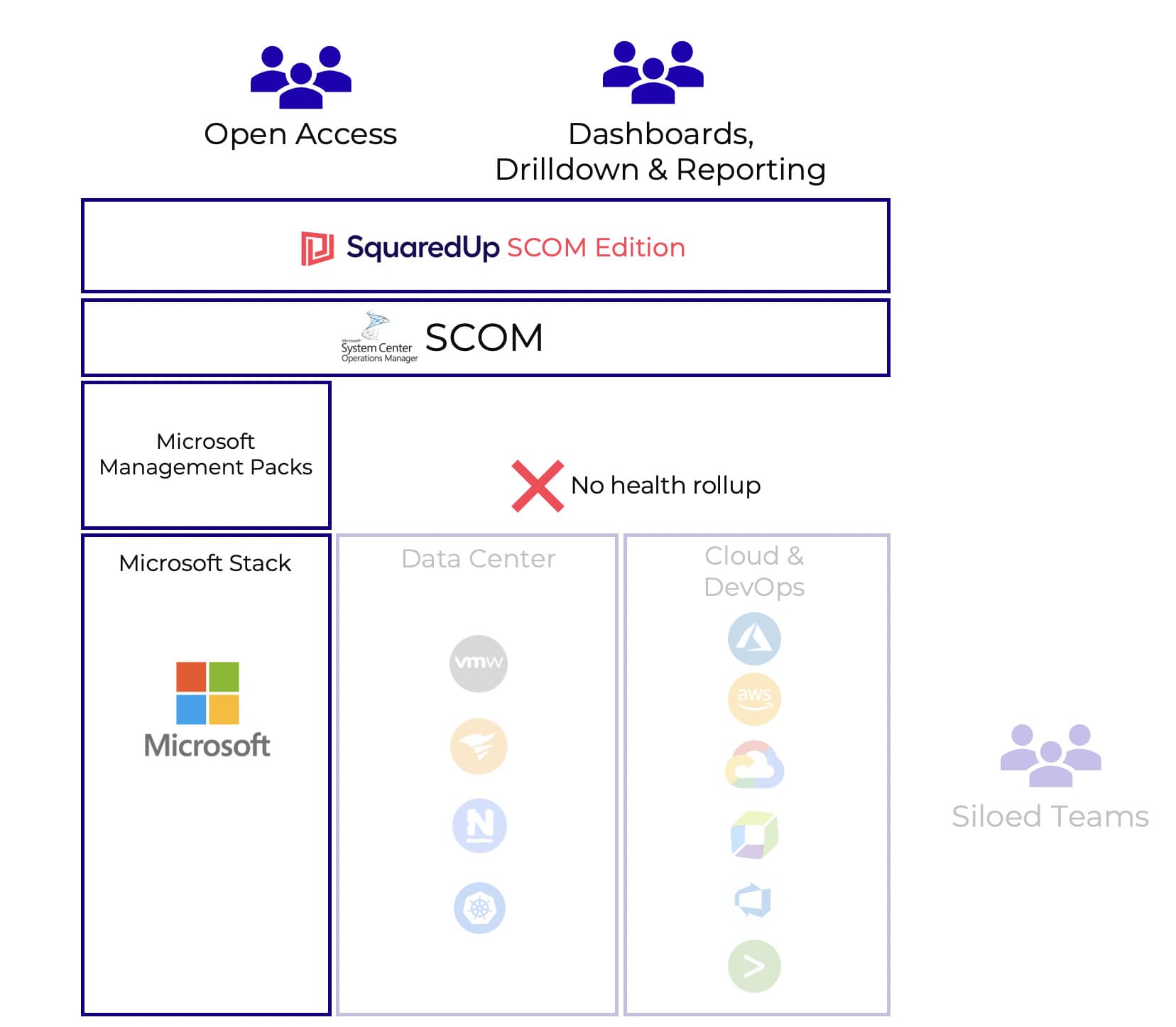 SquaredUp SCOM Edition on top of SCOM offers Open Access, dashboards, drilldowns and reporting, while sitting on top of Microsoft MPs that pull in monitoring from the Microsoft stack. But we don't have any rollup from the other tools in the Data Center and Cloud & DevOps environments. This means that the teams who manage those tools and consume that data are very much siloed from the POV of our monitoring stack today. 
While it's possible to attempt custom integrations – like pulling in high level information from Dynatrace for example – and trying to surface that in SCOM via SquaredUp, it's difficult and very tedious work. 
EAM-X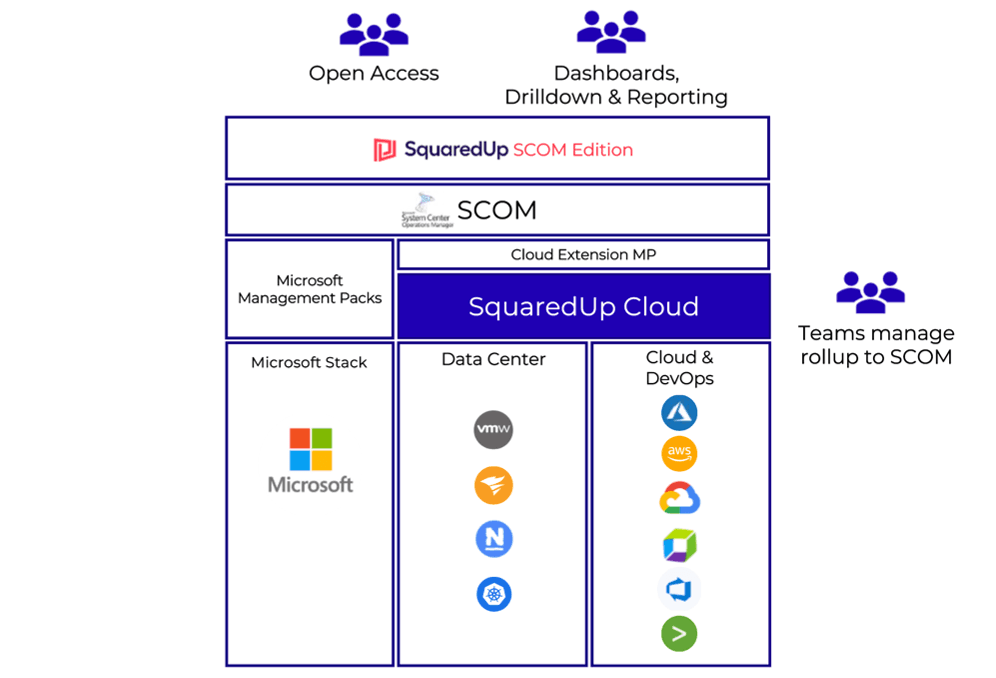 With EAM-X, the SquaredUp Cloud Extension MP is slotted in alongside the Microsoft MPs, and SquaredUp Cloud owns the object model for all the items below it, rolling it up through the MP into SCOM, and allowing you to have visibility over every single tool in your organisation. This is further rolled up into your single pane of glass. No more blind spots! 
Ultimately, here's what we all want to achieve: 
The big picture – "one dashboard" 
Quickly correlating information across tools to troubleshoot major incidents 
Accessing and sharing data between teams to get to the bottom of complex performance issues 
And these are the capabilities we are unlocking with EAM-X. We can't wait to share it with the community, so if you'd like to get started with plugging SCOM into 40+ data sources, contact us at [email protected]. We look forward to hearing from you! 
As always, Happy Dashboarding!
- The team at SquaredUp