Why choose the Connect license for SquaredUp 5.0?
Every enterprise has its arsenal of tech tools to tackle an array of different challenges. Useful, and necessary, but often a pain to monitor.
Whatever your data sources, being able to bring all these metrics into a unified dashboard provides valuable context, which in turn helps you identify and correlate problems more quickly, resulting in improved reaction time and decision making.
To add said context, we typically need a dashboard administrator to bring in data from various sources via a Web API, a SQL database, or through native integrations. That's time and effort.
In a simple few clicks, the SquaredUp Connect license can do all of that for you. Thanks to our powerful Web API, SQL and native integrations, you can easily create visualizations from all your tools and data sources!
When you consider that you may have already deployed Splunk, Dynatrace, SolarWinds, Azure DevOps, Pager Duty, Pingdom, ServiceNow, etc., you start to realize that having an easy-to-create unified dashboard that connects all these data sources at the center of your monitoring initiative is an invaluable asset.
Get that cross-platform, silo-busting visibility into each of your applications!
What can I achieve with the Connect license?
With the Connect license, you get all the features of the Teams license (including Open Access, Team Folders, Visio Diagrams), plus unlimited integrations, SQL tile, Web API tile, ServiceNow tile, Azure Log Analytics and App Insights tiles.
But what does that mean for you? Let's break it down.
We'll start with an example.
Pingdom, New Relic, SQL, SCOM – all on the same dashboard
Let's assume that you invested in Pingdom's Synthetic Monitoring for your public-facing applications. With Pingdom, you know your applications are operational from the customers' perspective. But internally, you are also running New Relic as your APM tool, which gives you insight into each transaction as it travels across your servers. Finally, you have SCOM monitoring each of your servers to make sure the necessary resources are available. That's three different applications providing insight into your application!
But here's how it looks on one dashboard: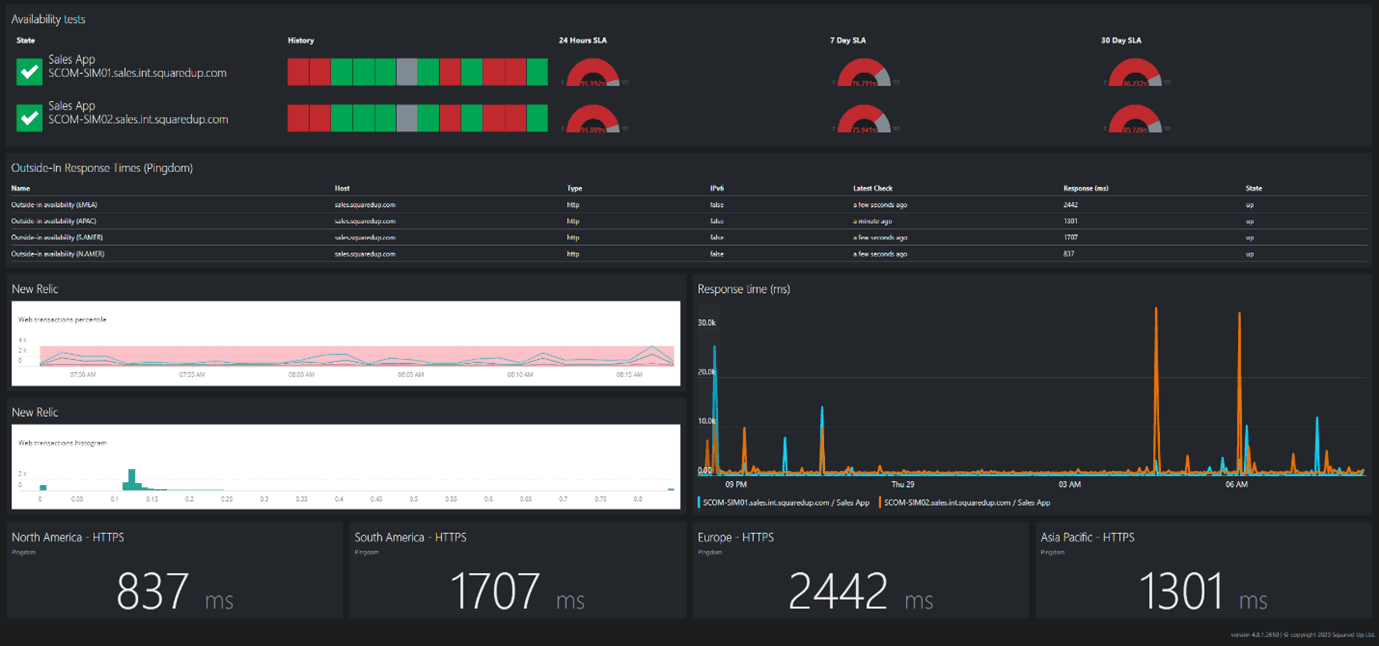 Breaking it down, Pingdom allows you to pull data via a RestAPI.  New Relic enables the sharing of graphs via webhook. And we can present SQL Server data in some unique and exciting ways with the SQL line Graph tile.
Sales App dashboard
Similarly, the Sales App dashboard below displays data from PagerDuty, Zendesk, Pingdom and Azure DevOps, alongside health status roll-up, SLA, and a map showing the status of all the dependencies. This allows you to keep track of everything that could affect the performance of your App, in one place.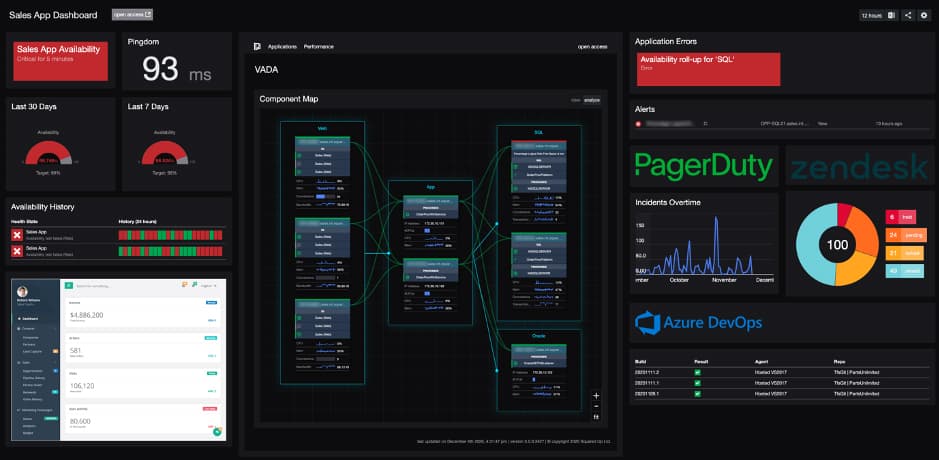 Management dashboard
This management dashboard easily brings together data from your SQL databases, PagerDuty, and Azure DevOps. The SQL tiles in the bottom left corner display the number of orders over time and revenue over time using the line graphs, as well as the total orders and total revenue using the scalar visualization above. Easily connect to any SQL database and present that data to Management, be it data from your own ecommerce platform or an external business intelligence tool!
Like what you see? Let's now take a deeper look at the features and their capabilities.
Connect license features
SQL tile
This tile allows you to connect to any SQL database hosting any application, and query it to display data – pretty and quick!
The three visualizations it offers are:
SQL Scalar visualization – used when the result of the query is a single number
SQL Grid visualization – used for queries that return a table of results
SQL Line Graph visualization – allows you to graph a time series or any time-based data, well suited for detailed performance information as well as trends, average and more metrics over any period.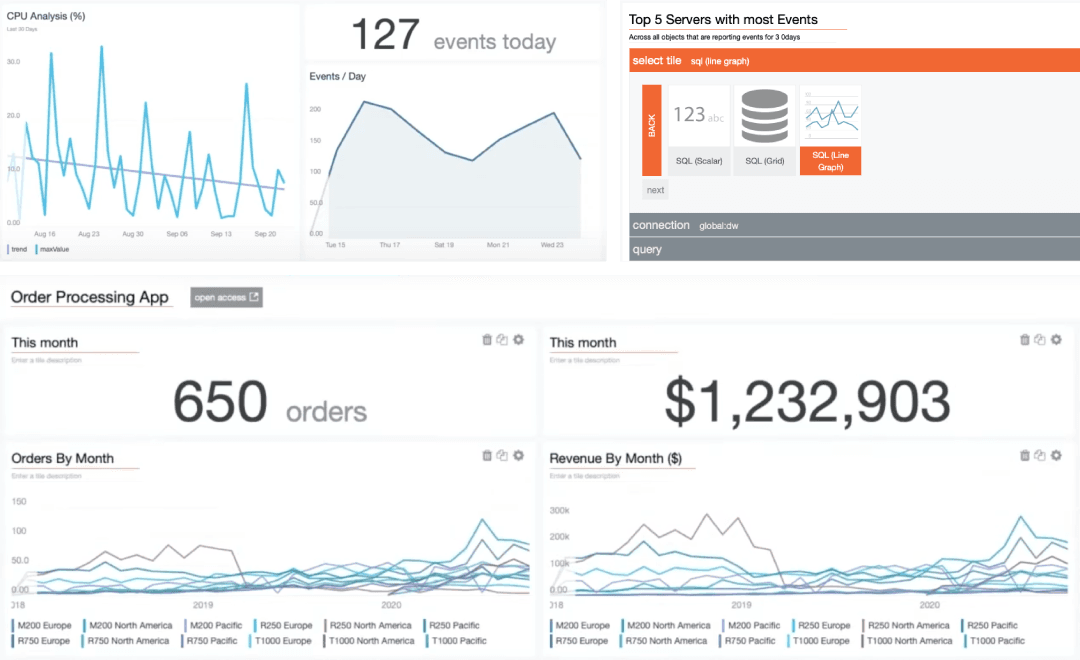 The Line Graph tile is a new feature that enables you to do things like track your server's patching overtime, the number of events on a given resource overtime, or more business-oriented metrics such as the number of orders. It could even pull in a time series from your favourite monitoring tool that supports SQL (e.g. Solarwinds).
Find out more here:
Web API tile
With SquaredUp 5.0, we have added a range of new visualizations and integration capabilities to our Web API tile, which is fast becoming more and more like the Swiss Army Knife of dashboard tiles. Whether it's Solarwinds, Azure DevOps, ServiceNow, Dynatrace or the tool that your enterprise has deployed, you can now create beautiful 360° dashboards across all your tools with a REST API, even more easily.
In a survey we sent out, our customers indicated that their priorities were to visualize non-SCOM monitoring tools, deployment tools, and alerting tools in line graphs, donuts, and bar graphs.
And that's exactly what we delivered with the Web API tile.
New visualizations: line graphs, summary donuts, bar graphs, and sparklines
New integration capabilities: mustache picker to parameterise API queries, and the ability to view the response data from the API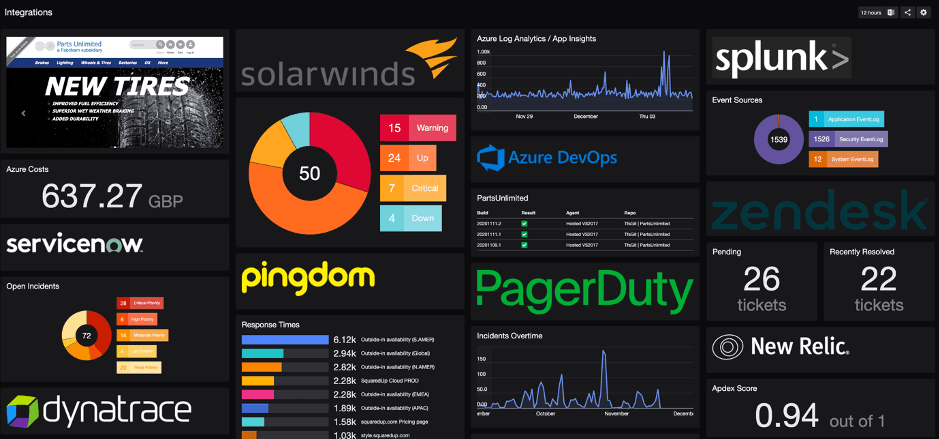 Find out more here:
ServiceNow tile
With our native ServiceNow tile, you can quickly and easily pull, display, and share your ServiceNow data. 
Combining your ServiceNow data with your SCOM data means that you can start doing things that other organizations only dream of. For example, you could show Active Incidents against a specific Enterprise Application. And you could place a dashboard of Active Incidents and Change Requests in front of your Operations Center. That way, when an end-user calls, your Operations Center, operators have a clear understanding of whether maintenance was scheduled or not.

And the best part – you don't have to give away the keys to your ServiceNow kingdom. Which means there are no limits to how broadly you can share throughout your organization! Use this with our Open Access feature and finally overcome the problem of monitoring silos.
Find out more here:
Azure Log Analytics and App Insights tiles
The Azure App Insights and Log Analytics tiles allow you to query App Insights and Log Analytics for data (both stand-alone and in the context of objects within SCOM) and display that information as part of your SquaredUp dashboard.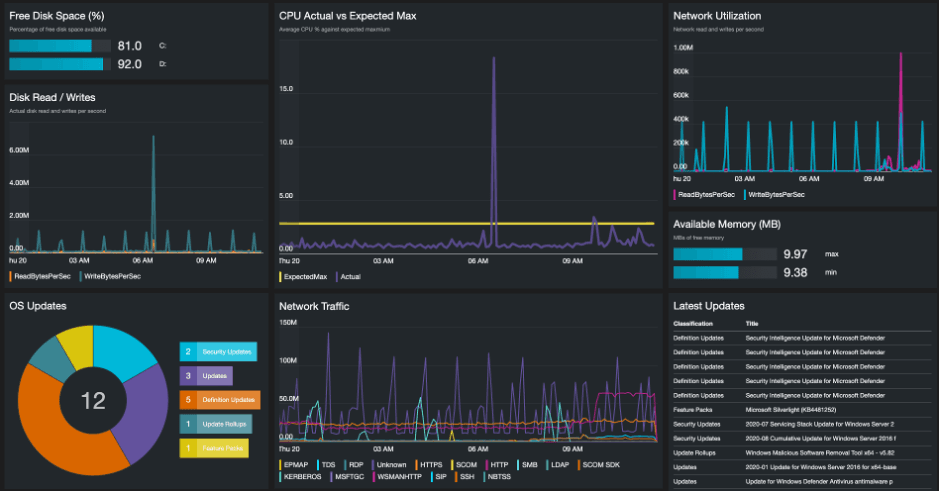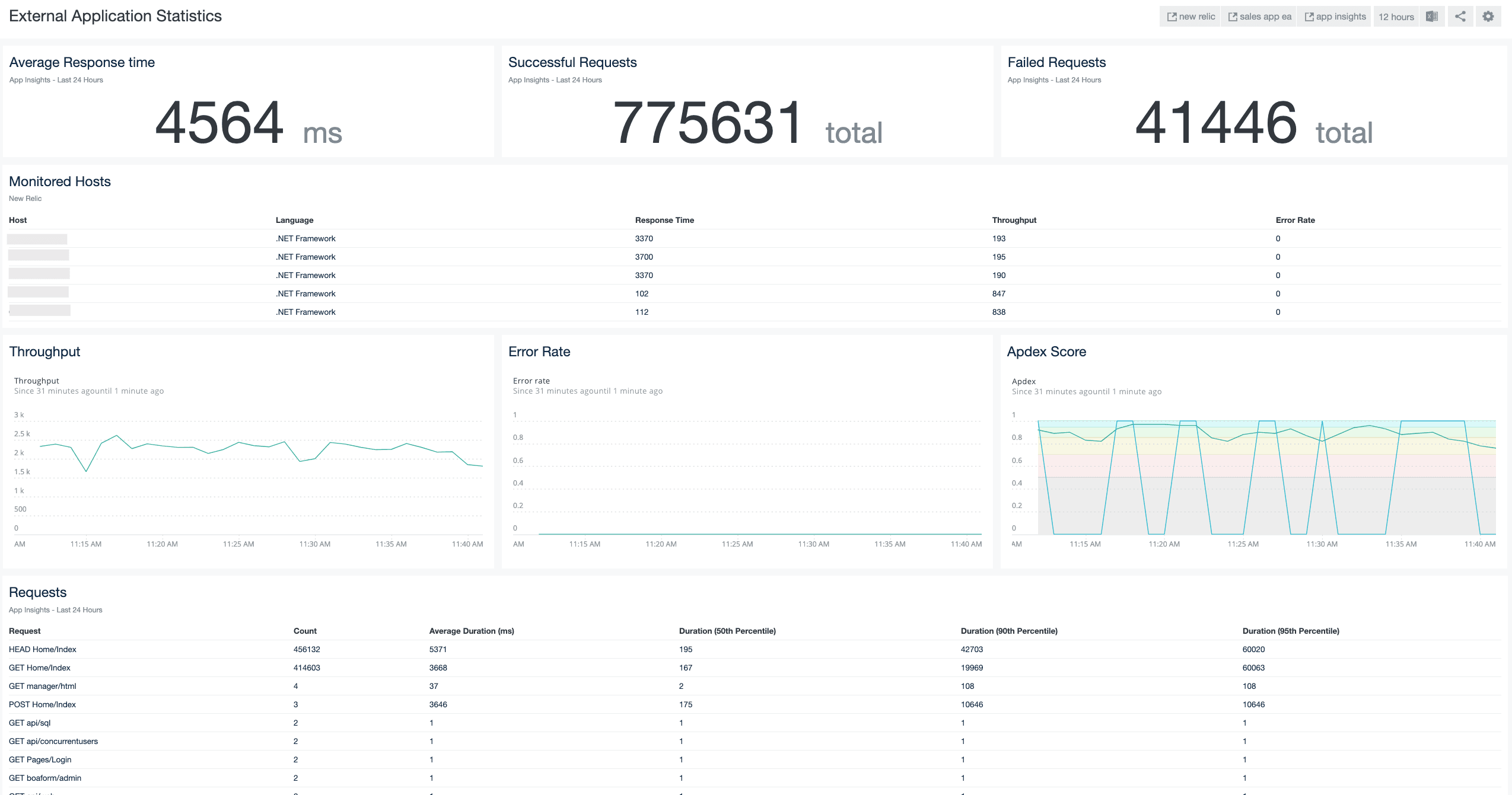 Using these two tiles, you can unify data held within SCOM and Azure on the same screen to bring all collected monitoring information together into a single pane of glass!
Fine out more here:
Get that cross-platform visibility with a unified Connect license dashboard today. All the data from your third-party tools in one place means faster incident resolution, improved decision-making, and fewer tools to maintain!
Contact renewals@squaredup.com to get the Connect license today.