Blog
Better Azure Resource Governance with SquaredUp 4.7
Resource Summary tiles
Vincent Babin
Senior Product Manager, SquaredUp
In this article, we are going to look at two new visualizations from SquaredUp for Azure: Summary Grid and Summary Bar. Read on to learn how exactly they can help you easily summarize your Azure resources.
How do the tiles help me with resource governance?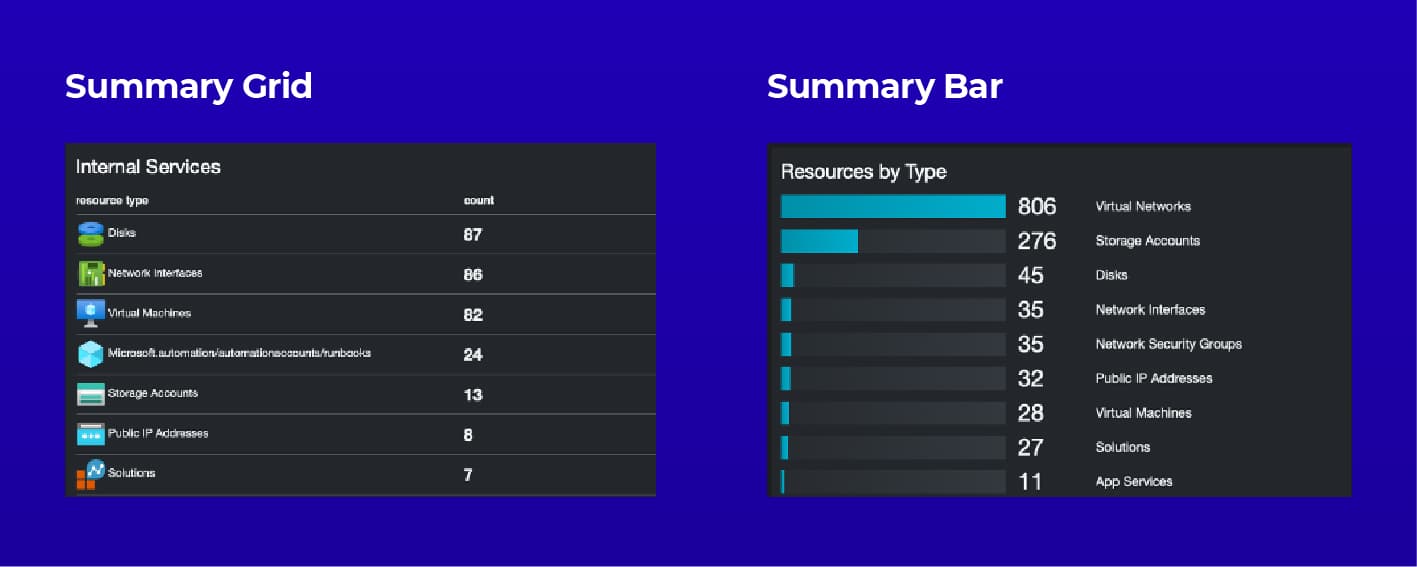 The new Summary Grid and Summary Bar tiles will display a count of resources across your Azure environment. This can be is useful for governance purposes or if you want to quickly navigate back and forth to a filtered view showing only certain resource types.
As with most visualizations in SquaredUp, you have full flexibility to scope and group according to your needs, and you can quickly drilldown to the corresponding object for more details.
Let's take a look at the new visualizations in action!
The features in action
Summary Grid
The example dashboard below is a new out-of-the-box dashboard which we have made available to all our customers in SquaredUp for Azure 4.7. Side-by-side, we can see how the new Summary Grid helps us compare resources across several areas of our demo organisation: Order Processing App, internal services and commercial services.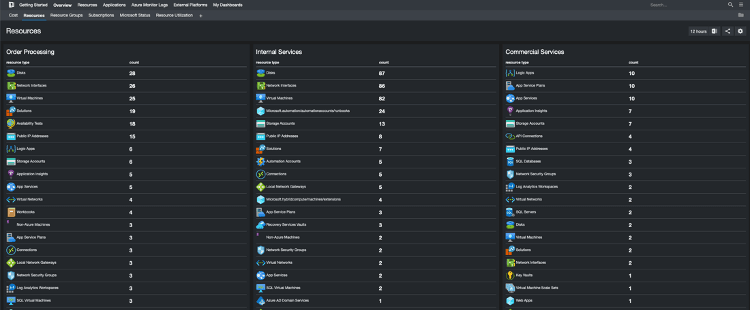 This dashboard above is a great starting place for governance and resource inventory. In order to build this resource summary comparison dashboard, we scoped each Summary Grid tile to a specific subscription. We kept the default sorting (by value descending) and the default grouping (by type) which worked for us as is.
Summary Bar
The dashboard below is also available out-of-the-box and shows the Summary Bar tile (right-most column). This new visualization works similarly to the Summary Grid, albeit with a bar view to quickly see what resource types make up the Lab subscription in this case. The new Summary Bar tile, alongside existing resource group and cost tiles, gives us a great snapshot of our subscription.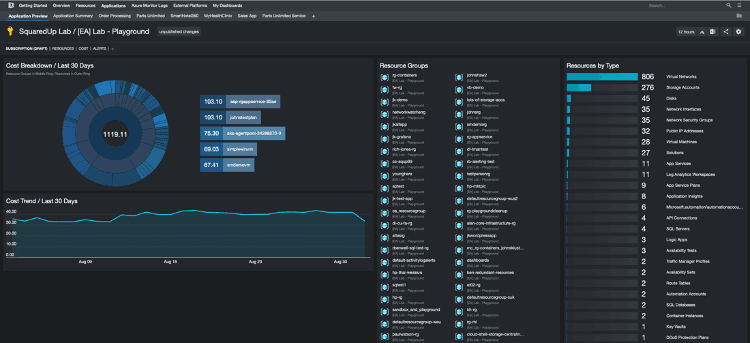 It is also worth noting that both the Summary Grid and Summary Bar tiles can be configured to only show the top N resources.
Drilldowns
So far, we have been able to easily summarize our resources across our Azure tenant. The new summary tiles are fully interactive so we can drill down into a specific object to reveal more details. Let's take the example above of our Lab subscription and drill down to reveal more details about our virtual machines by clicking the corresponding row in the Summary Bar tile above.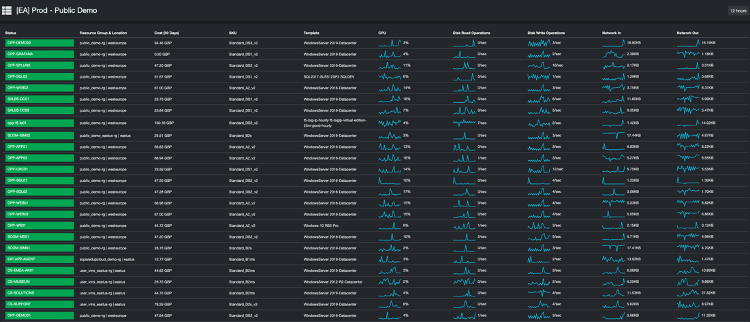 The example above shows a drilldown view of our virtual machines that are part of the Lab subscription. This is a great visualization to see our virtual machines' cost and utilization, and we can easily go back to our Summary Bar and explore more resource types (e.g. disks, etc).
Like with most tiles in SquaredUp, we could have achieved a different visual result to suit another use case by using the versatile configuration available on these two new tiles:
Scope by type, resource group, subscription and tags
Group by type, resource group, tag and even custom field (with our built-in moustache picker)
Sort by name or value in ascending or ascending order
Where can I get them?
The new Summary tiles are available in SquaredUp for Azure version 4.7 and up. The tiles can be easily added to your dashboards and perspectives:
Add a new tile and select Resources > Summary Grid or Summary Graph.
Scope it to your needs.
Configure how the tile and its data are displayed and you are done!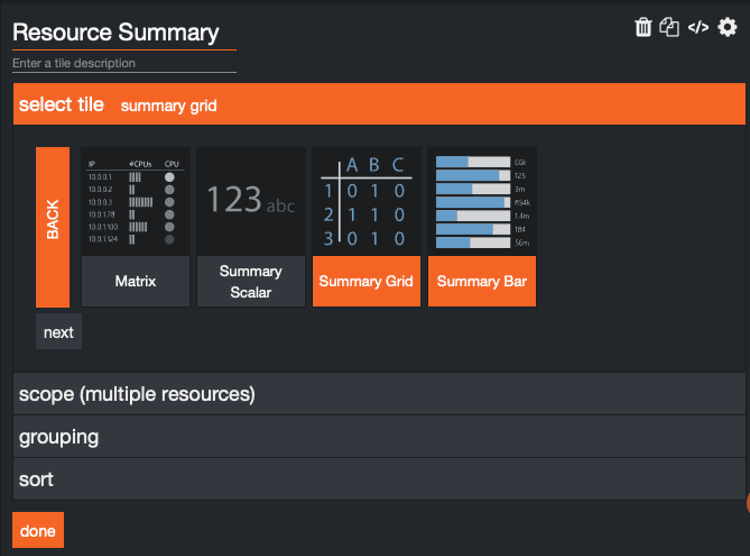 For more background information on SquaredUp for Azure can do for you, check out the following:
Or book a demo today.
And as always, our Support and Community pages will happily lend a helping hand if needed!